Lumia Cyan update for Lumia 820 is now available in India and the interesting part is that this completes the rolling out of Cyan update for Lumia 820 in Asia Pacific region. Windows Phone 8.1 update for Lumia 820 is still 'Under Testing' for United States. In United Kingdom, the Country variant of Lumia 820 got the Cyan update but Everything Everywhere (UK) and Vodafone-UK variants of Lumia 820 are yet to receive the update. Except France, Germany, Iceland, Movistar (Spain) and Ukraine Rest of Europe has also got the Cyan update for Lumia 820.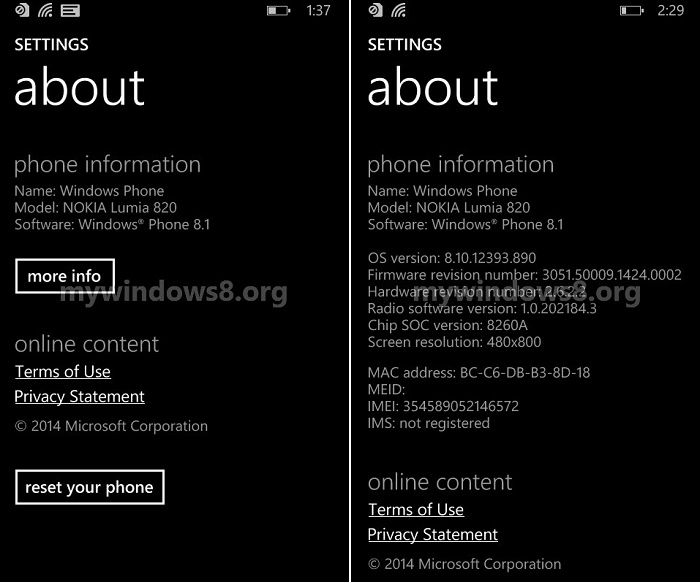 Some major changes that you may observe after upgrading your Lumia 820
Let me give you a brief description about the new features added in Lumia 820 after receiving the Windows Phone 8.1 update.
1. While taking the screenshots, the first thing I was prompted is that the screenshot button combo (which used to be Power button + Start button) changed to Power Button+ Volume button.
2. If you go to About Phone via Settings, you can get the details of the new update. More Details give you the concise detailed information.
3. The new update has brought in a dropdown list of frequently used features. This one seemed to bear an uncanny resemblance to the UI of Android. n the new drop down list you will get all the notifications dumped, along with Wi-Fi Sense, Airplane mode, Bluetooth, Rotation Lock and the All Setting options.
4. Wi-Fi Sense and Mobile Data Sense are two new enhancements in the update.
5. The All Settings options opens up a plethora of new features. Some of them are Touch, Glance, Wi-Fi Sense, Data sense, device hub, audio, display, VPN, NFC, Storage Sense screen projection and much more.
6. Last but not the list Cortana, that you can simply crave for. So ask whatever you want and Cortana will helo you out in her own demeanor.
Check the steps to Activate Cortana alpha version in India, Canada, and Australia.
A detailed Windows Cyan update availability list for all Lumia models can be found here