Windows Phone has got a new app known as PhotoMic with which you can create personalized comics with your pictures and make comic strips on your own. You can edit all your pictures by putting text bubbles, callouts, giving filter effects and convert pictures to comic strips.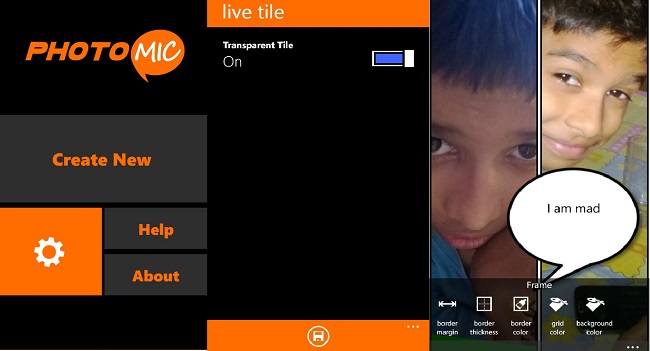 PhotoMic has got some excellent features and above all it has got a well defined easy to use User Interface. You can learn in brief about the app from the About screen. The app has a lucid design and hovering from one feature to another is quite easy. The About section is enough to explain you the purpose of different features in the apps and the additional Help section is an added advantage. When you first edit a picture, the apps lets you select a template from a list of 20 templates. The app is a free one which also has a paid version. But the free version definitely has some limitations like 6 templates instead of 29 and fewer editing tools.
The templates we are talking about has wide range of frames and collages starting from 1 image in a single template to a maximum of 5 images. When your images are set in the templates, try out various editing tools like inserting call outs, putting filtering and HD Effects, inserting dialogues and other texts and so on. Some other interesting and fun features are Square comic result, personalized templates, flip, rotate, scale images and bubble, transparent tiles, sketch filter and more.
The app runs in Windows Phone 8.x and you can download the app for free from Windows Phone Store