This article will help you to understand how to share media between your Windows 8 or Windows 8.1 PC and a dlna enabled Smart TV. I have shown the steps with Samsung UA40EH5330R, but this article is applicable for any dlna enabled device.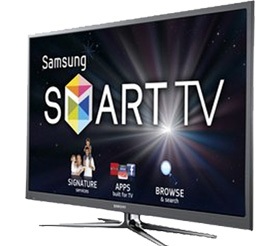 Before going through this article make sure that:
A. You know How to allow other devices to connect to Windows 8?

B. You know How to use dlna server in Windows 8?
These are the main things you need to perform before going to the next stage.
You have completed your 75% job. Now, follow the steps below.
Steps to connect Windows 8 with Samsung Smart TV

1. You will need a Switch (minimum two-layer) to connect two different segments of a LAN. Your internet DSL modem can act as a Switch. If your modem supports Wi-Fi and you have a Wi-Fi dongle for your Smart TV, you can connect your TV with your modem using Wi-Fi. Otherwise connect your TV with the switch using LAN cable.


2. Do the same thing to establish another LAN segment between your Windows 8 computer and Switch (ADSL modem). Now the Switch is joining two LAN segments and forming a Local Area Network.


3. You can do mixed set up. Suppose your modem has LAN ports and it also supports Wi-Fi. Your TV do not has Wi-Fi connectivity but has a LAN PPoE Mini Port and your Windows 8 computer has Wi-Fi adapter. Then you can create a wired LAN segment between your TV and modem and another Wireless LAN segment between your computer and modem. It will also form a LAN with these three devices.


4. Now, go to your TV settings and connect your TV with available network. Also connect your Windows 8 PC with that network. Here in my case the network name is "Anik" and name of Windows 8 PC is "ANIK_COMP".


5. After connecting the TV with "ANIK" , "ANIK_COMP" media device is appeared in TV screen. For Samsung smart TVs, you need to push "Source" button, you will see your Windows 8 computer as a media device in "Network" category. See the screenshot below.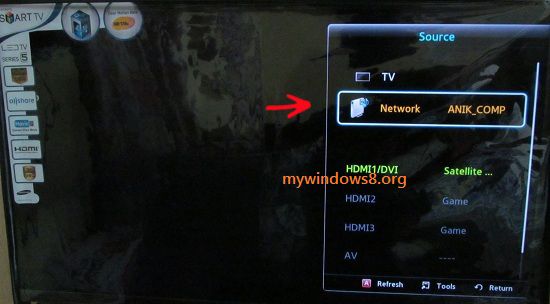 6. Click on that option, you will be prompted to select what type of media you want to see : videos, photos or music. Select your choice.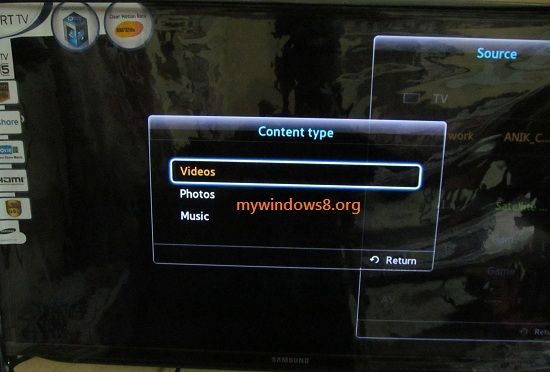 7. Go to Videos -> All Videos folder. If you cannot see any video there, it means you have not shared any video from your Windows 8 PC to play it in your TV.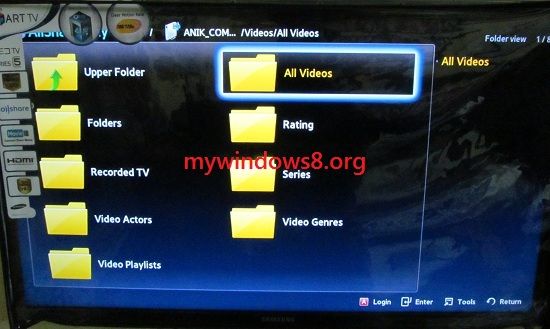 8. In your Windows 8 PC, copy a video and paste it in C:\Users\anik\Videos location (Replace "anik" with your administrative user name).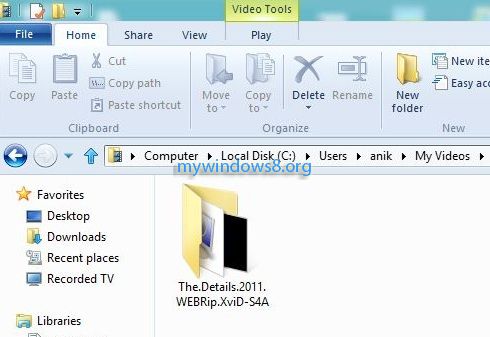 9. Now, in your TV again open All Videos you will see the video file, that you have just copied to "My Videos" folder of your Windows 8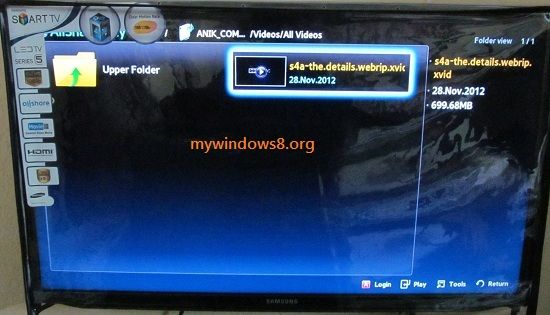 Click on the video to play it in your TV. That's it. Hope you have enjoyed reading this. Do not forget to post your views.