Now that Windows 10 has started rolling out, so the next attention should be on Windows 10 Mobile launch. There were a lot of speculations regarding which handsets will be the lucky ones to first get hold of the Windows 10 Mobiles. Tech news channel Neowin made an approach to Microsoft and they have fetched reliable information regarding Windows 10 Mobile.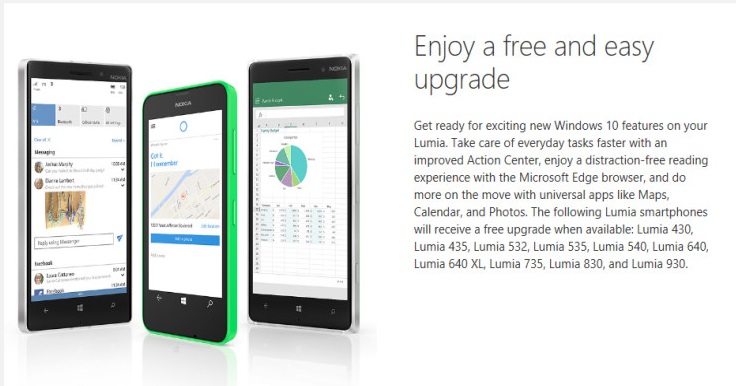 According to Neowin, Microsoft has announced, "This is an initial list of in-market devices to receive the Windows 10 update. It is our ambition to bring Windows 10 to all Lumia devices running Lumia Denim software, noting that some features will vary, based on the hardware specifications."
The devices which will first receive the Windows 10 Mobile update are all Lumia devices. Have a look at the names:
Lumia 430
Lumia 435
Lumia 532
Lumia 535
Lumia 540
Lumia 640
Lumia 640 XL
Lumia 735
Lumia 830
Lumia 930
If your handset is not in the above list, then your phone will get the Windows 10 Mobile update but not at the first lot. As per reports many handsets with 1 GB RAM or less have been removed from the list. Those handsets are the immensely famous Lumia 520 and Lumia 630/635. The Lumia 1520, a quintessential Lumia Windows flagship phone will also miss out the update. But since Microsoft might change its plan later on, so don't freak out! As mentioned above, Lumia 930 will get the update although there's an ambiguity if the Verizon aided Lumia 930 will get it at the same time of not.