The Start Button is back again with Windows 8.1. This Start Button were dismissed intentionally since Windows 8 to as to make users get used to the Apps studded Start Screen but on the stead it had a lot of adverse effects. Most of the users found it difficult to cope up with a completely different user interface and because of public demand and with a motive of regaining the trust of its global users, Microsoft brought back the much anticipated Start Button so as to provide time to the users to get ready for handling the Charms Bar, Multiple Screen, Metro Apps. The Start button can be changed to any image of your choice. There is a simple program available in internet, known as the Windows 8.1 Start Button Changer program by Kishan Bagaria, A simple and free tool, which when executed leads you to the way of customizing your Start Button. The following steps will help you change the Start Button in Windows 8.1.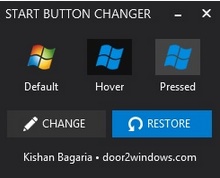 Steps to Change the Start Button Icon in Windows 8.1
1. Firstly, download the free Windows 8.1 Start Button Changer program by Kishan Bagaria at the door2windows site below. link: Windows 8.1 Start Button Changer | door2windows and extract the zip file. Now run the .exe file available in the zip file. Click Yes if prompted by UAC

2. If you want to change the default Start Button, click on Change.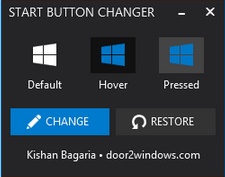 3. Now browse the location where your image is saved. Select and Click Open.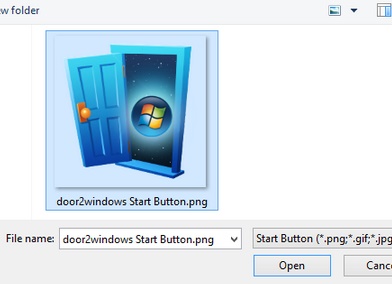 4. Now if you want to reset the Start Button to default, click on Reset.