As the name says, Library in Windows is a place where all your files, folders, pictures, videos and documents are available without disturbing their original locations. So wherever your data may be stored in whatever folder, library will provide you that information also. So you don't have to frisk about to find where you have kept your last birthday photos. Library makes your life more organized and more sorted. Many people make good use of the Library while many are ignorant about its importance. Once you created a new library, just include the folders you want to sync and it will be done in no time. Now I'll come to the aim of the tutorial.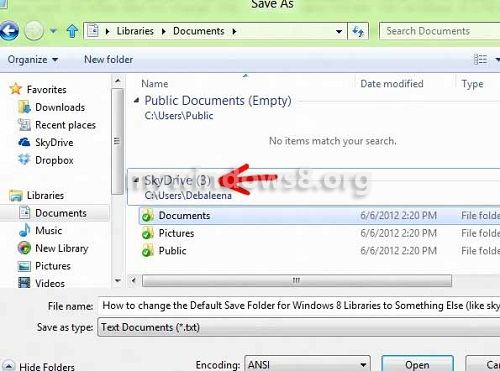 In Windows the folders of Libraries have a default save location. For saving documents, the default save folder provided is Documents. But if you are doing and saving things to a different folder or a cloud store, each and every time you have to go through the tedious and boring process of navigating to the folder of interest. So why not add that location along with the default locations? As we always love doing things in a shortcut method hence this tutorial has its usefulness. So after adding the SkyDrive, DropBox or any folder as the default save folder of Libraries, as you do Save As or Save the newly added location will pop along with the prevailing ones.
Steps to change the Default Save Folder for Windows 8 Libraries to Something Else (like SkyDrive folder)
1. Click on the Windows Explorer Icon located on the taskbar to open it and then click on Libraries.

2. Select Documents , right click and go to Properties.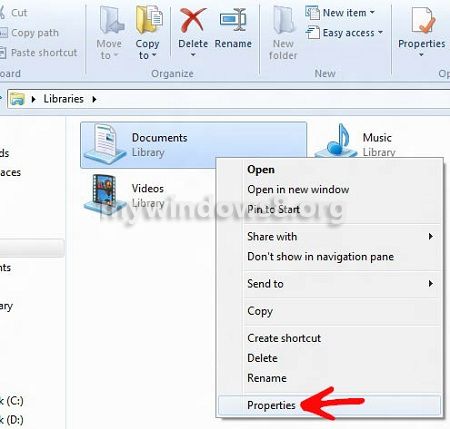 3. Look at the Library locations. By default the location is My Documents. So as you want to add some other folder like a cloud service like Skydrive, Dropbox, click on Add.
4. Now add the folder of your choice. Like here I have selected the Skydrive for my purpose. Hit Include Folder.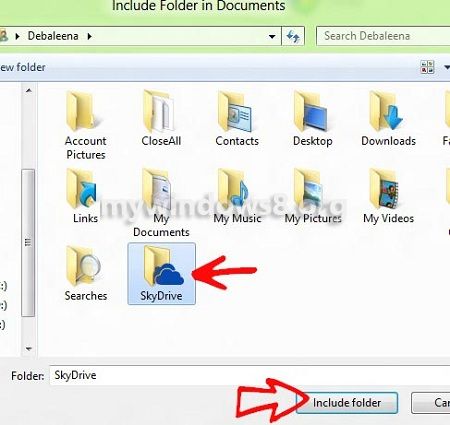 5. So you see there is a new location in the Library Locations along with the existing ones. Click Apply and then Ok.