Blue screen death is a common problem in the preview versions of Windows 8. After the final release of Windows 8 the blue screen death issue has been resolved. Last time I have faced the blue screen death in Windows 8 Consumer Preview. Instead of that if you are facing Blue Screen death issue in Windows 8 or any preview versions of Windows 8, this article will help you to fix it.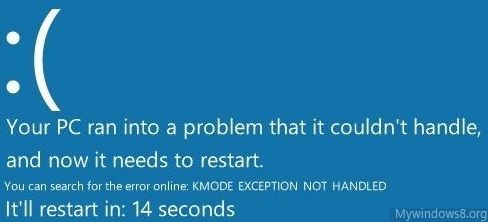 What is Blue Screen Error or BSoD?
After encountering a critical system error Windows OS (Windows8, Windows 7, Vista, XP) shows Blue Screen of Death or BSoD what is technically called a STOP message or STOP error. It enforces the system to restart automatically to prevent the damage and if possible it also corrects temporary errors to boot your system properly.
Common Reasons behind BSoD or Blue Screen of Death :
Main reasons behind Blue Screen of Death are described below. Though there can be other reasons, responsible for BSoD. I have only discussed the common reasons :
A. Incompatible device & drivers : Incompatible or Corrupted devices and drivers can be an important reason of BSoD. This is the main reason of Blue Screen Death in Windows 8. Windows 8 is very new, so there are many drivers which are still not compatible with Windows 8. Installing those drivers in Windows 8 can lead to BSoD. Again if you upgrade your graphics card, motherboard, processor or any major hardware of your computer and immediately start windows, you may face Blue Screen of Death because your computer will still try to interface with your newly upgraded hardware with the driver software, installed for the old hardware. Corrupted memory module, Overclocking processor, Hard drive reading problems, Improper assembling of hardware (e.g. loose cabling) are also responsible for Blue Screen of Death.
B. Incompatible or Corrupted DLL files : Missing or Corrupted DLL files are also responsible for Blue Screen Error.
C. Corrupted Registry : Windows registry stores configuration settings like registry value, information related to the boot up, device driver; database information and options etc. for device drivers, essential programs, kernels, user interface as well as the application programs running on the system. Every application program uses registry to execute and run properly in the windows environment.
Improper handling of registry may corrupt the core operating system related registry entries and creates fatal error in the system that causes BSoD.
In Windows 8 the Error screen is different from that we can see Windows 7, Vista or XP. It is page with blue background with a sad smiley. The reason of occurring BSoD also appears in that page. It helps users to identify the cause of error easily.
Different types of BSoD errors shown in windows 8?
Common BSoD error codes are described below.
A. KMODE_EXCEPTION_NOT_HANDLED : It indicates that a kernel-mode program has generated an exception. So, Blue Screen Error occurred.
B. HAL_INITIALIZATION_FAILED : It indicates that BSoD occurred because any device or driver got corrupted. Hardware Abstraction layer is the interface between physical hardware and application running in the computer (driver). Any problem in Hardware Abstraction layer, driver or device is the reason behind this type of BSoD.
C. SYSTEM_SERVICE_EXCEPTION : It indicates, that an exception happened while executing a routine that transitions from non-privileged code to privileged code.
You can get a list of error code, HERE
Steps to fix Blue Screen error of Death :
After facing a BSoD, First of all, let your system to reboot normally.
I. After reboot if you are lucky enough to log in to the system, then follow the steps below, so that this error does not occur again :
1. You have three choices:
i. Restore your system to an earlier point using System Restore option, and see whether he problem is fixed or not. If you have already taken back up of your system data before this problem occurred, then it can solve this problem. Go to Recovery->Advanced Tools -> Open System Restore option and restore your PC

ii. You can also Refresh Windows 8. Refreshing Windows 8 will not delete any file, folder, software or documents from your computer.
iii. Try to Reset your Windows 8 computer. But if you choose to Reset your computer all installed software, Files and Folders in current windows drive will be deleted and Windows will return to the Fresh Installed condition.
2. According to the BSoD error code, if this Blue Screen of Death is occurring because of any incompatible, missing or corrupted driver or hardware. Then identify the driver software and try to update the driver (sometimes new driver update solves compatibility issues). If you have made any change in hardware (e.g. upgraded your graphic driver etc.), then uninstall the previous driver and install proper driver for the new hardware.
3. Always try to keep your Operating system up to date. New updates solve many errors and compatibility issues.
II. If you cannot log in to the system even after reboot, and facing this error repeatedly follow the steps :
1. Put Windows 8 DVD into the DVD drive and start the booting process. Follow the onscreen description to proceed. Click on Repair your computer option.
2. Select Trouble Shoot. Now, you can select Refresh or Reset options and see whether you can now log in to your system or not.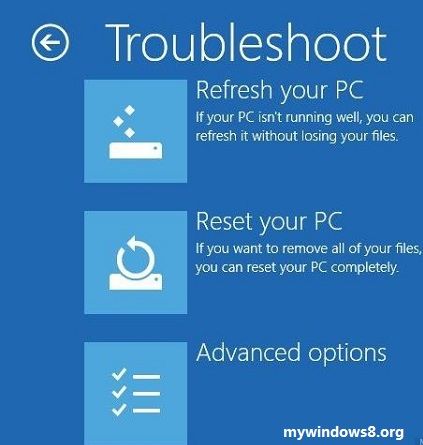 3. If you are still unable to log in, click on Advanced Option. If you have back up is in hard disk then select System Restore . If back up is in any external devices, USB or CD/DVD media, then go to System Image Recovery .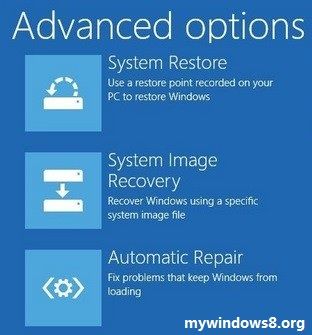 4. There is also an option of Automatic Repair. It will automatically detect and resolve issues which are preventing your PC from booting properly.
5. If you are still facing Blue Screen of Death problem, Fresh install the Operating system.