Bing has been successful in predicting sports results, awards predictions, cinema and many more. Bing Predicts have taken its chance in many such fun experiences and have succeeded in most. Now Bing Predicts will predict the TV shows which will hit this Fall 2015. Check out which shows will be appreciated by viewers and the popular most. Bing takes into account numerous data before making its predictions. Most of the data are real time data extracted from votes, polls, posts and many other parameters based on historical statistics. So most of the times, the predictions are correct.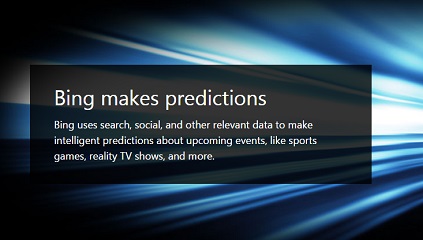 According to Bing Predicts, the 10 most popular shows of Fall 2015 will be:
The Walking Dead
The Big Bang Theory
Empire
NCIS
Dancing with the Stars
Grey's Anatomy
The Flash
Gotham
Supergirl
The Voice
Bing Predicts is not only limited to TV Shows but has extended its predictions for Netflix movies, based on different genres and date of release. You can deploy Bing Predicts for customized search. For example, you can search by Events Near me and Bing will show you the results based on your location. Right now, Bing is the most fruitful place to get news on Movies and TV series. Check this link.