We all know photos and videos of our special moments and occasions hold a huge place in our hearts as well as on our smartphones and other devices. While our heart has endless space to contain all these special moments, our smartphones, with fixed memory, cannot hold them all! So, we need to transfer large space consuming files to our computer hard disk or any external hard disk periodically. Besides, if we change our smartphones, from one platform to another, or from one version to another, we need to transfer all out vital apps, photos, videos, and account information. For iOS devices, the process becomes even more difficult due to the tight security system of Apple. Since, many users may not be accustomed with the entire transfer process from one ecosystem to another, the best resort is to use a third-party application. There are ample third-party apps that you can purchase, but here, I shall talk about an efficient and robust iOS Manager application, called the AnyTrans application.
Why Do We Need A Backup App Like AnyTrans?
As mentioned before, the memory of smartphones are fixed, especially for iOS devices, were the memory is not expandable as it does not support SD card facility. So, transferring large files, HEIC image formats, HDR and 4K videos from iOS devices to PC is highly necessary.
AnyTrans Application for iOS device
AnyTrans application is a product of iMobie, a company which excels in producing a wide variety of manager and rescue software applications for iOS devices. AnyTrans is an immensely articulate and extraordinary application offering a plethora of services. It is available for both Windows and macOS ecosystem. The application works for all versions of iOS, starting from the oldest functioning version to the latest iOS version. The software takes care of all your iOS device data and facilitates data transfer between iOS and non-iOS platforms. Let's have a quick look at the significant promising features of AnyTrans.
Salient Features of AnyTrans Application for Windows
1. AnyTrans photo transfer app is available for both Windows and Mac. Features for both these versions are also same. Here, we shall talk about the Windows version.  
2. AnyTrans aids transfer of photos videos, songs, media files from an old iPhone to new iPhone, from Android to iPhone, from Google Cloud or iCloud to iOS, from iOS to PC, etc.
3. AnyTrans can transfer a wide range of data and information, such as, exporting photos from various photo sharing apps to iOS or vice-versa. It is capable of transferring photos, music, and videos, by category, so that a user can find them organized and handy in the new platform/device.
4. Besides transferring photos, videos and music, the application can also transfer other data type, such as, Contacts, apps and app files, chats from messenger services like WhatsApp/Line/Viber/KiK, and all sort of files and documents.
5. The transfer is absolutely lossless, thanks to the various cutting-edge technologies incorporated in the app.
6. A strong backup system provides effortless backup of data. There are three types of backup supported in the application, viz., full backup, Air backup and incremental backup.
7. It can also restore your iOS device from a number of critical situations. You can backup multiple resources, multiple Apple ID and devices. It also acts as media downloader, online HEIC converter, etc. The application can address to any backup and transfer related issues for iOS devices.
Steps To Install And Use AnyTrans For Transferring Photos From iPhone To PC
1. Download AnyTrans for Windows operating system and run the .exe file. When prompted by UAC, click OK to continue. Next, click on Install to start installation.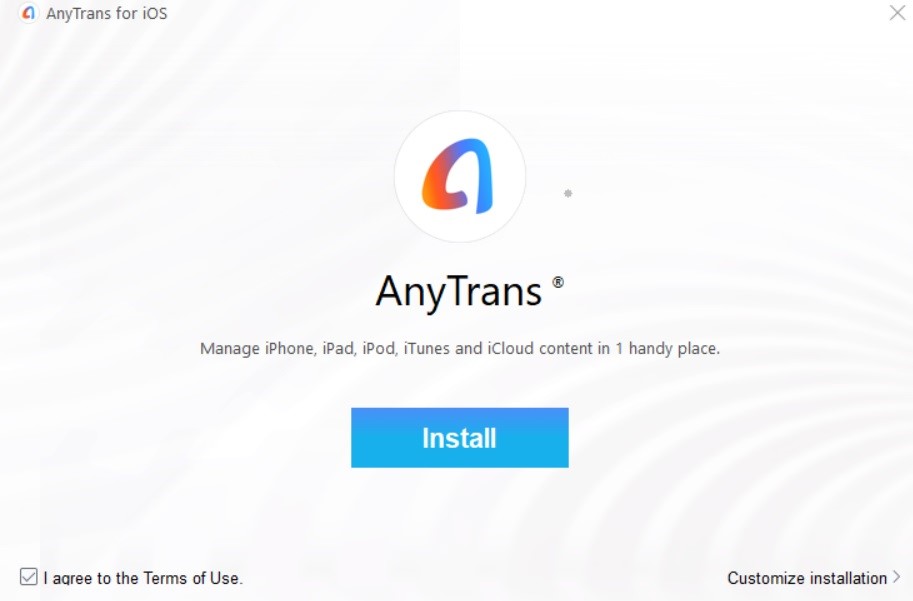 2. Now, the application will start downloading on your PC. It will take a minute or 2 to set up completely.
3. After download and set up is complete, the user interface will appear. This will look like this:
4. You can see, in the left panel several options are there. Most of them have been discussed already. The options include Device Manager, iCloud Manager, iTunes Library, Phone Switcher, Social message manager, Media downloader, ringtone maker, screen mirroring, etc. If you want to transfer photos from iPhone to PC, then you need to select the Device Manager option.
5. Next, connect your iOS device to your Windows PC. After that, follow some simple steps as demanded by the application. You can find an excellent user guide here. You can check out the step-by-step processes of transferring photos. The process is extremely simple.
Final Take
AnyTrans is powerful, holistic application addressing almost everything related to an iOS device. The UI is crafted carefully and has been made user-friendly. It's indeed an efficient, flexible and versatile photo transfer app We highly recommend our users to give it a try.