The judgement day is here, the buzz has reached the limits as tomorrow dated 29th July Microsoft's Windows 10 will be officially launched! The first batch of Windows 7 and 8 users, who have reserved their copy of Windows 10, will finally start upgrading to next exiting copy of Windows. To help users be comfortable with smooth upgrade, Microsoft also has created a Quick Guide that tells you everything you need to know about Windows 10. To recent developments in process, Microsoft has now revealed its Windows Launch portal where they are sharing a big collection of information relating to the Windows 10 launch!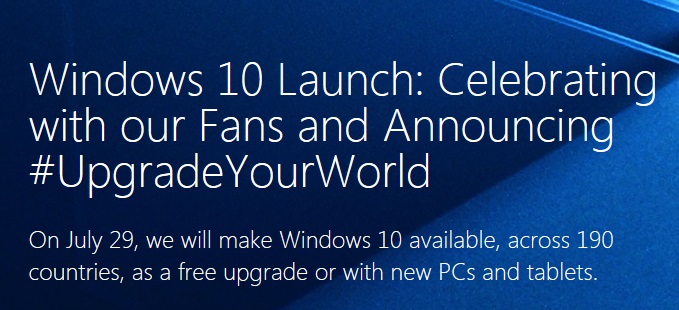 The new web site contains all the details about the Windows 10 from tweets regarding Windows 10 to the full journey of Windows 10 development. With blue shades in background, the Web page title says, "Windows 10 Launch: Celebrating with our Fans and Announcing #UpgradeYourWorld" So now you can go ahead and express your views on new OS with hashtag #UpgradeYourWorld. Below the tag line, when you scroll down on web site, you will find various exciting tweets about Windows 10 from users across the world. Along with it you'll also find pictures of Microsoft's staff throughout the journey of development.
Upgrade Your World
Windows was built to help people do great things. Whether fighting hunger, saving the environment or inspiring the creation of the next new lifesaving technology, Microsoft and our partners are celebrating people and organizations who do great things- to not just upgrade Windows, but also to upgrade the world. We'd love for you to join us in making a difference in your community. #UpgradeYourWorld
– Windows 10 launch site
Next website shows "10 Reasons to Upgrade to Windows 10" with a link to all the new features coming to Windows 10 and screenshots and videos explaining them. Media Assets also include no of videos showcasing wide scope of new OS. Windows 10 QuickGuide download link is provided as well. Website has famous ninja cat atop a T-Rex at its end!
Go ahead and visit the page for upgrading to exciting new Microsoft's next big thing here!
SOURCE: Microsoft Windows