With so much hype around Windows 10, every other companies are trying hard to stay in market hype! Apparently, Intel has found a way to increase battery life and performance as well as integrating in more modern standards like Cat6 LTE, BT 4.1, worldwide GNSS, WiDi 6.0, and A4WP Wireless Charging and this is going to be possible via Intel's next-generation Skylake processors! According to FanlessTech, the new processor shows huge boost to low power device with a 41% increase for the Y-Series, 34% for the U-Series and in raw CPU performance terms, a healthy 10% increase bare minimum is expected across the board!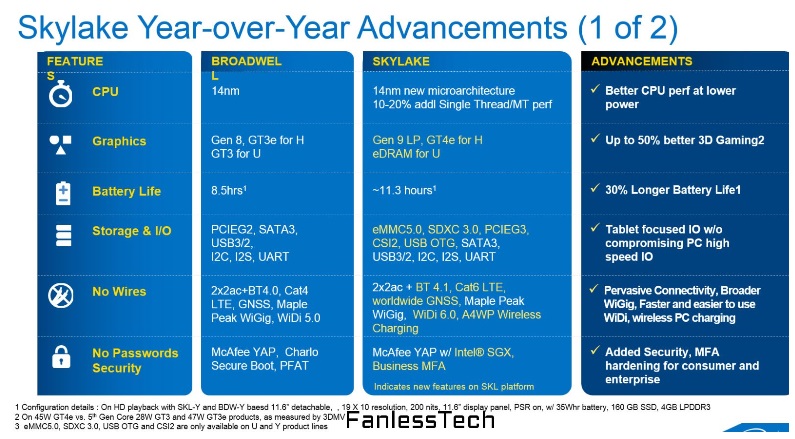 Windows 10 introduces new modern computing features like Windows Hello and Intel backs Microsoft up by enabling support for advanced software and hardware like 3D cameras and advancements in audio processing. Although Intel builds chips to run on every type of desktop and laptop so they need to support a wide range of standards, with Windows 10 in picture, the company may now focus on building a device that may now contain more advanced touch that works better with stylus interactions as well as a 3D camera, and long battery life.
Surface Pro 3 has been in market for a year now and there is absolutely no doubt that its next version Surface Pro 4 will be out. However there remains a mystery around any details such as timing and specific improvements. Although it's tough to assume that Microsoft will use the latest Intel chipset Skylake in its Surface Pro 4 and only time is going to tell us if Microsoft will use the Surface Pro 4 as a hero device for Windows 10! However, if the OS giant decides to use Skylake in its Surface Pro 4, results could be astonishing! Better battery life, faster storage speeds, more wireless capabilities (such as WiDi 6.0 and possibly wireless charging), Windows Hello camera, and enhanced audio to improve Cortana, and a better touch plus pen experience.
Hopefully Microsoft takes the scenario into consideration and if we are lucky we might soon here about Surface Pro 4, stay tuned in!
SOURCE: Winbeta