Mobile or computer operating system comes with some dedicated apps for many social media or media streaming websites which are self content and full of utility features. Dedicated Apps for certain websites are necessary because they enhance the accessibility of the different facets of the websites by creating a better interface for the apps. For example, if you have an Android phone or an iPhone, you will use the dedicated Facebook, Instagram, Twitter apps downloaded from the desktop version of the websites. Not every website has a dedicated app and neither do we need. But there are certain websites like Facebook, Instagram, Netflix, Hotstar that urges for dedicated apps on PCs as well. Hence Windows have developed some dedicated apps. Desktop apps for Facebook and Twitter have been developed for Windows 10.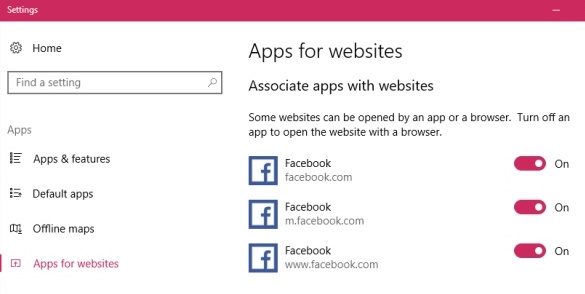 These apps can be used for websites just by customizing the Settings. The Creators Update for Windows 10 has come up with a new feature called "Apps for websites". These new feature lets you open certain websites via the dedicated apps. For example if you want to open any Facebook URL then the URL will not open via a web browser but will open on the Facebook App for Windows 10.
The following tutorial will help you to add "Apps for websites" in Windows 10:
Steps to add Apps for Websites in Windows 10
1. Open the Start Menu, go to Settings.
2. Now tap or click on Apps to open all settings related to apps.
3. In the left panel, you will find an option called "Apps for Websites". Select it.
4. In the right panel, you will find a list of Apps associated with list of websites.
5. One thing to remember here is that the Apps you want will appear in the list only if you have installed them on your PC. Otherwise you won't be able to add the Apps for websites. To add Apps for websites, move the slider with the apps to the right in order to turn it on.
6. To turn it off, move the slider back to the left to turn it off.