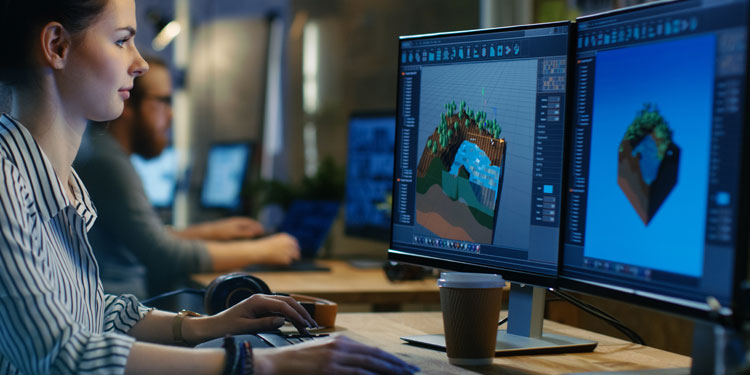 Web design is one of the leading courses bolstering the continuity of the Net. The reason is that we can't have a vibrant Internet without websites. When you enroll in college for a web design course, you add to the number of experts who will be building the feel and look of websites. You will also be engineering how websites and webpages function to let users derive value for their time and effort. Moreover, web design works together with graphic design because all websites need graphics to work well. Remember, graphics attract people faster than plain text.
One of the pillars of building a website or a blog is having a strong command over blog posts. Writing blogs is an art. It can be achieved by continuous practice, and thorough knowledge. If you are not confident about the writing part, you can take help of popular essay writing services such as essayservice.com. You can choose the topics of your choice, and take the help of the career experts. We start our coverage by looking at some of the favorite graphic design courses available on the Net.
This course is suitable for beginners. Udemy offers it using Adobe Illustrator in the form of instruction videos. Upon completion, you get a certificate plus mastery the following key logo design areas:
● Selecting the most appropriate fonts for logos;
● A basic understanding of how to design logos;
● Designing with negative space;
● Choosing appropriate logo colors.
>>You can access this course free of charge from Udemy<<
# 2 Advanced Styling with Responsive Design
This ten-hour course is most suited for web design beginners. It helps them to understand and master the following areas:
· The fundamentals of responsive web development;
· How best to utilize grids or and fluid layouts and how they function on different screen layouts;
· The basics of HTML/CSS coding;
· Designing of mobile-friendly websites.
The course is available at Coursera.
This ten-hour course is suitable for mastering landing page conversion optimization. In this course, students can learn and master these dimensions of landing page conversion:
· Writing captions and calls-to-action to make users take the desired actions necessary for achieving a site owner's goals.
· Designing action blocks with clear definitions for optimal conversion.
· Running expert usability trials with limited funds.
· Building landing pages using customs domains without needing to write code lines.
· Grasping how critical the AIDA sales funnel model is in aiding optimal conversion rates.
The course is available at Udemy.
#4 Design Rules: Principles Plus Practices for Great UI Design
This course is ideal for web design starters. Moreover, beginners only need basic knowledge of graphic and user interface design. A person who has been in this field for close to three decades created this course to help upcoming designers overcome common mistakes. It focuses more on the undercurrent principles controlling design than the tools you need to use during design work.
When you go through it successfully, it makes you proficient in the following areas:
· Excel in utilizing colors and contrasts effectively.
· Create and simplify visual cues.
· Organize visual content perfectly.
· Recognize and avoid common web design blunders.
· Master how to optimize types and images in your design work.
The course is available at Udemy.
#5 Master Photoshop for Web Design
Lastly, this six-hour online course is suitable for students seeking mastery in their web design using Adobe Photoshop. It is excellent for creating stunning pictures for online use. It focuses on showing you how to optimize this program to create great UI designs. Upon completion, you should be able to do the following perfectly:
· Harness Photoshop for web development;
· Master how to design sites with grids and guides;
· Create stunning web images;
· Grasp how to user-friendly designs.
You can access this course via LinkedIn Learning.
#6 Graphic Design Bootcamp
As with any other Bootcamp, the purpose of this one is to build an applicable skillset in a specific area – graphic design. This course's author is Derrick Mitchell, one of the best Udemy instructors in web design, and the successful completion of the course by 80,000+ students definitely speaks in its favor. By creating real projects, like brochures, flyers, and web graphics, students quickly master the basic skills and learn the best web design tools and programs they may start applying right after graduation. The major emphasis is put on Adobe software, so if you plan to pursue a career in design with Adobe, this course is the best choice. Regular updates from the course's creator make it relevant and useful at all times.
Requirements you need to take part in the course include:
· Access to Adobe Creative Suite
· Proficient computer skills
· Creative skills (e.g., drawing, photography)
Also Read: How To Build Your Own Social Networking Website On Your Windows PC?
#7 UI/UX Design Specialization (by CalArts)
Web design is on the rise, and thousands of companies are in dire need of capable UI/UX designers. The quality of the website's or app's UI/UX determines its user-friendliness, usability, and appeal to customers to a large degree, thus determining whether the project will fail or fly. With the UI/UX course from CalArts, you'll acquire all the fundamental knowledge and skills in UX/UI design, including research, graphic design, and prototyping of effective, profitable websites and applications.
Core aspects covered in the course include:
· Role of UX/UI design in a web app and website creation;
· The role of visual design in UX/UI;
· Strategies and methods of UX/UI development;
· Software suite of UX tools.
The course's creators also cover the necessary tools and software UX/UI designers should master, including Adobe Illustrator, InVision, Adobe InDesign, and Treejack. The best thing about the course is that it's currently offered free of charge (for those who only view the course content without receiving a certificate of graduation). Join over 40,000 satisfied students who jumpstarted their design careers with this course from Michael Worthington and Roman Jaster.
There you go with seven best graphic and web design online courses that can supercharge your career. The choice is yours to go for the one that suits your career and training needs best. See you at the top of your career!