We have given a lot of articles on Windows XP and the ceased support by Microsoft. But still Windows XP is in news. This proves the eternal popularity of Windows XP after 12 years of its birth. We have already seen that some leading global banks are paying millions of dollars to Microsoft to extend Windows XP support, while some banks in Japan has also upgraded their service to Windows 8 from XP. So in a scenario like this where Windows XP is no more receiving any public updates from Microsoft, surprisingly the fall of XP in OS market share is negligible compared to what was expected.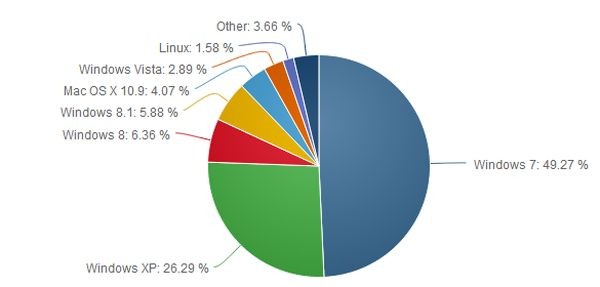 Statistical data presented by Net Applications revealed that Windows XP is still being used by over a quarter of all PCs worldwide. Astonishing 26.29 percent of the PC OS market share is still being claimed by Windows even now. The figure was 27.6% from the March data of the firm.
The firm, which collects unique visitor stats from tens of thousands of websites to come up with its numbers, released its April 2014 findings this morning. They show Windows XP still claims . That's down from the firm's March numbers, which had XP at 27.69 percent. Top business titans of US are still upgrading their system and Microsoft is still providing support for business purposes. The China government is preferring Windows XP because upgradation is too expensive. While China is trying to be old and traditional Japan is ahead with many leaps with Windows 8 upgradation of a large number of workstations in banking sectors.
Other major data in Net Applications has revealed that Windows 7 is numero uno OS spot with 49.27 percent in April, up from 48.77 percent in March. The most talked about version Windows 8 is third with 6.36 percent in April. It was 6.41 percent in March. The figure has decreased in case of Windows 8 but surprisingly increased for Windows 8.1 with 5.88 percent in April, up from 4.89 percent in March.