Virtual desktops are very common in Unix/Linux distributions, letting you divide up your work and switch between multiple desktops — serving as a cheap alternative to having multiple monitors. However Windows didn't have such feature until recently when Windows 10 was unveiled. So we know Windows 10 will have this feature! Not upgrading to Windows 10 but wishing you could maybe get this feature on your older Windows? Well no worries. There are many software programs out there that make this possible in Windows. One such app is Virtuoz. It is a light-weight utility that can meet your needs provided they are fairly basic. It's a free app that lets you create up to four virtual desktops, and has keyboard shortcuts for quickly letting you switch between them.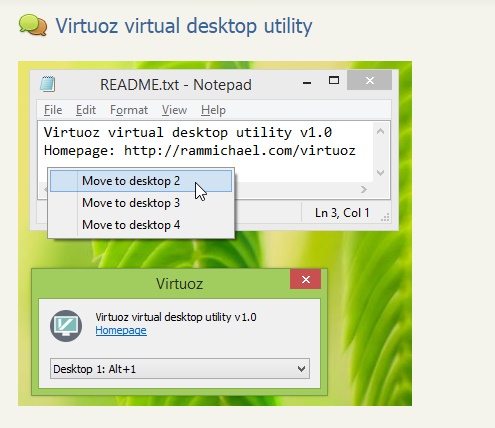 Developed by RaMMicHaeL, Virtuoz is a tiny program of size 403KB and is available in both 32 and 64-bit editions. It is a portable utility so you don't need to install the app itself! Just run the appropriate executable and it runs in the background, adding an icon to your system tray. You can start using it right away!! To switch to a desktop, use the keyboard shortcut Alt+1 …Alt+4 with each number corresponding to a desktop number. Virtuoz is very basic so do not expect a lot of features and features are best described as minimal. It handles virtual desktops reasonably well; apps that are open on one desktop are not visible on the other. If you exit Virtuoz, all open apps and windows are sent to the first (and remaining) desktop. There's a hotkey to move the current window from one desktop to another. Hotkeys may be customized, and the number of supported desktops changed from 2-20, but there's no interface for this — you must edit an INI file.
The disadvantage of Virtuoz are more like limitations to do more work because the app is so basic; you cannot send a window open on one desktop to a different desktop. You will always have max of four virtual desktops. Also you cannot exit or close a desktop that you do not need. You can only switch to a desktop but not preview it and the windows you have open on it like you can in the multitasking view in Windows 10.
So for the program that never requiring even close to 1MB RAM and extremely lightweight, if you are looking for simple basic virtual desktop app, then Virtuoz could be your solution.