Aero Peek feature was first introduced in the Windows 8 Taskbar. It lets you see through the opened windows to check what is going on in the desktop. When you have lots of windows opened and at the same time you are downloading something, to check the progress of the download at the desktop without minimising the windows you have to turn on the Peek at desktop and then taking the cursor to the corner of the taskbar and you will find the windows being transparent for a while and you can peer through them the view of the desktop. The following tutorial will show you how to turn on Peek at Desktop in Windows 8. Once you have turned on the Peek, an alternate way is to press Windows+,.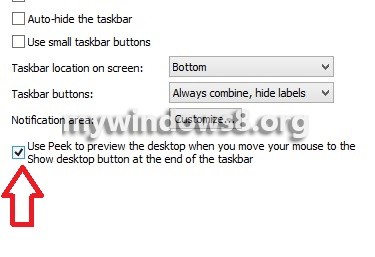 Steps to Turn Peek at Desktop On or Off in Windows 8
1. The steps are very simple. First right click on the taskbar and go to Properties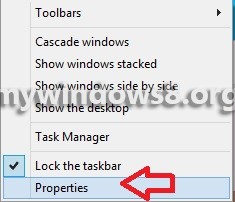 2. To turn on Peek at Desktop, check the option Use Peek to preview the desktop when you move your mouse to the Show Desktop button at the end of the taskbar. Click on Apply and then OK.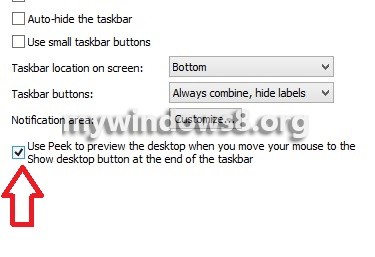 3. To turn it off, uncheck the above option and click Apply and then OK.