Control Panel has been an integral part of the Windows operating system. Control Panel was the one stop destination for all types of Settings of Windows operating system. Since the inception of Windows 8, a separate Settings menu emerged which took over some of the duties that were initially under Control Panel. Finally in Windows 10, it was found that the All Settings menu which was added in the Action Center panel received a huge overhaul. Almost all the settings can be found under Settings menu and the same Settings can be found under Control Panel too.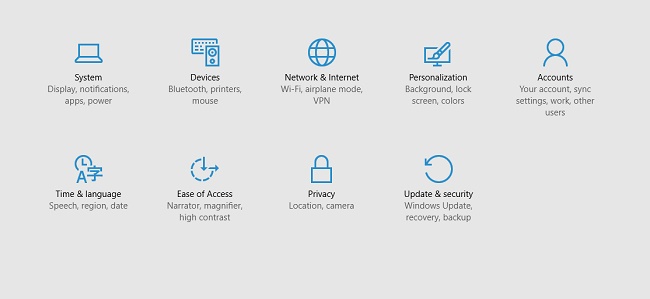 So some users gave feedback to Windows to reduce this operational complexity and consolidate the Control Panel and Settings panel under one name. Unlike Windows 8 and Windows 8.1, the Settings menu of Windows 10 is very extensive, robust and user friendly. The query of two different settings menu were placed on Twitter by several Windows Insiders to which Microsoft's head of the Insider Program, Gabe Aul, and a Senior Program Manager, Brandon LeBlanc replied with an affirmative thoughts. Both of them agreed upon the fact that two different Settings destination is needless and the disparity is causing nothing but increased complexity in codes.
Brandon LeBlanc replied, "@billybobjoe2211 @GabeAul Settings will eventually supersede Control Panel. Some stuff not moved over. But haven't had to use CP in months."
Gabe Aul replied,
" @billybobjoe2211 @brandonleblanc Having two separate implementations means more code complexity and disk/mem usage. Getting to one is leaner."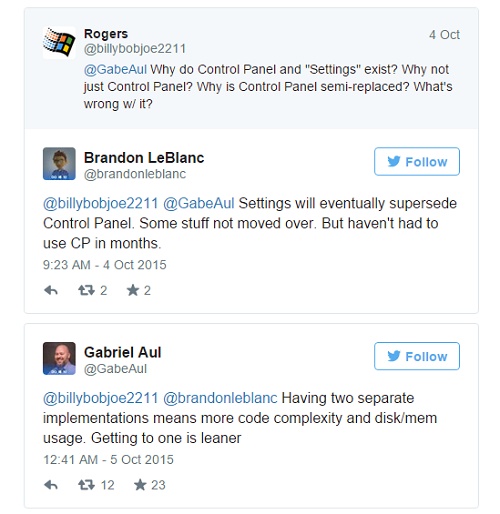 It is clear from the tweets of Gabe Aul and LeBlanc that Windows will soon need to bid farewell to the very old Control Panel.