Tenorshare Password Recovery is a new Windows Password Recovery Tool which claims to be the easiest software to Reset Forgotten Windows Login Password for Local Account and Microsoft Account. We tested the professional free version of the software and it's really very user friendly and pretty easy to handle. The Windows Password Recovery Tool is available in four versions Standard, Professional, Enterprise and Ultimate. Each of the version is available in free and paid versions. The price is listed as below:
Standard- $17.95
Professional – $29.95
Enterprise- $39.95
Ultimate- $44.95
The Tenorshare Password Recovery is compatible with Windows 7, 8, 8.1, 10 and Windows Server.
Losing the Windows login credential can be a traumatic experience, especially if you are using versions before Windows 10. Most of us are not aware of the concept of reset disk and how it can be used to recover lost password. It's better to say, very few of Windows users do keep Reset Disk. Once your password is lost, all your important files and documents are trapped until you reset it manually. Well, Windows operating system has its own method of recovering lost login credentials. It will require you to boot off your Windows Disk, select "Repair your computer", backing up sticky keys files to a particular location to a particular location, then rebooting the computer again followed by some command prompt tweaks and processes. This implies that setting up a new password consists of a long process but not many of us will find it feasible to carry on 14-15 steps. Tenorshare Password Recovery is one such savior Windows Password Recovery Tool that potentially resets the password and carries on the process in almost thrice the speed of other password recovery software tools.
1. First download the Windows Password Recovery Software.
2. The file is small and download will be completed within a minute. Next, you need to install the software and carry on the steps as instructed. Once installation is finished, the software will prompt you to insert a CD/DVD or USB. Another positive thing we noticed, is that both the CD/DVD versions are accessible from the free versions, unlike many password recovery software which allows USB only in paid versions.
3. When you get the Ready signal, you can Burn. Burning the CD/DVD or USB again involves two options:
Quick Recovery: Make a Windows password reset disk with the default ISO image file provided by Windows Password Reset Tool, which saves your time.
Advanced Recovery Wizard: Burn a bootable drive with a customized ISO image. It will guide you step by step with easy wizards, which is more convenient and precisely: select target Windows version, choose media to download drive and burn disk – very quick to finish.
The software supports almost all file systems like FAT16, FAT32, NTFS, NTFS5 and different types of hard drives like IDE, SATA, SCSI, etc.
You will be prompted if you want to continue Burning the CD/DVD/USB. Click Ok to continue.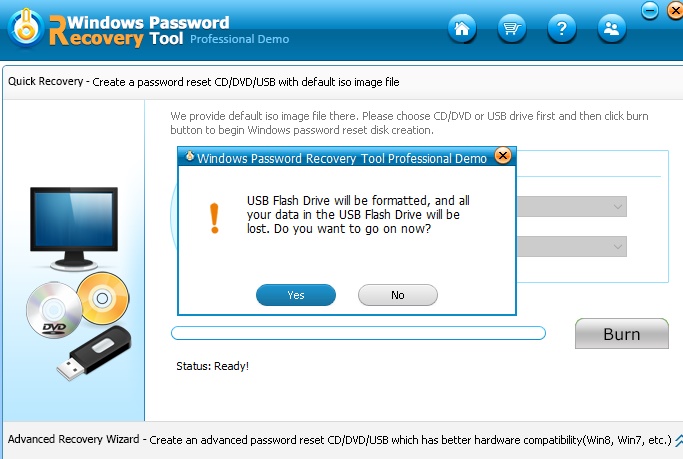 4. Next, insert the Windows Password Recovery Tool USB Flash Drive in the computer whose password is lost.
5. Reboot your computer and press F10 to enter the BIOS Setup. This option may vary with your computer manufacturer.
6. Go to the Tab Boot and select Hard Disk Drives.
7. Select 1st Drive.
8. Select the USB Drive. Save configuration and exit.
The computer will boot from the USB Drive.
The Tenorshare Password Recovery Tool is very efficient, fast and easy to use. We recommend you to use it.