1. RELEASE OF WINDOWS 8.1 PREVIEW VERSION:
June 26, 2013
2. OFFICIAL NAME:
Windows 8.1 is the official name. Although there has been speculations that the name would be Windows Blue but Microsoft has announced officially the name to be Windows 8.1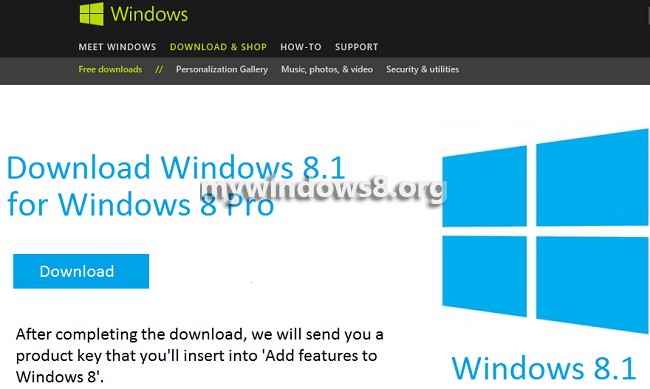 3. FROM WHERE TO GET WINDOWS 8.1:
Windows 8.1 will be a free update to the users of Windows 8 and hence, you will not have to buy it. Windows 8.1 will be available from June 26, 2013 at the Windows Store. A high speed internet connection is mandatory.
4. CLOUD POWERED OPERATING SYSTEM:
The updated version will be powered by SkyDrive cloud computing service. So an extra facility will be provided at every step by asking you the location where you will save your files.
5. WHAT IS THE KIOSK MODE ?
Kiosk mode enables you to lock down an application to a particular device so that the device it cannot be used in any place where you want to restrict its use. It's a good utility
6. MULTI-APPLICATION ACCESS:
Multiple application can be opened at the same time and the screen in split into the number of blocks as the number of opened applications.
At the TechEd North America, Microsoft Corporation announced that Miracast support will be another feature added to Windows 8.1. Quoted from the announcement of the company "Present your work wirelessly without any dongles needed; simply project your content to a Miracast-enabled device by pairing the device through Bluetooth or NFC. Miracast will then use the available Wi-Fi connection to let you lean back and project wire-free," the company has announced. So, it is clear that project and content presentation will found a new dimension.
8. BROADBAND TETHERING:
Broadband tethering is turning a Windows 8.1 tablet or a phone or a computer to a hotspot WiFi router.
WiFi DIRECT PRINTING:
Windows 8.1 facilitates peer to peer connection between a Windows 8.1 computer and a WiFi Direct Printer to print documents without the aid of any additional software.
9. NFC TAP-TO-PAIR PRINTING:
Printing via Near Field Communication is made possible. No separate printer is required to be bought and installed to avail this facility. An NFC tag is to be assigned to a printer to make the operation successful.
10. IMPROVISED PC SETTINGS AND DRIVERS:
Lot of changes have been brought up with the new version including PC Settings, a new Search screen, All Apps Screen and Start Screen coupled back to back and many more. The details of the PC settings have been discussed in other articles of our news section. Although it is heard that Start button is going to come back, but the video launched by Microsoft kept us clueless about it. Moreover, Microsoft has blocked many of the legacy code that were used in hacks and tweaks to bring back the start button.
For more news, keep watching the section.