Microsoft Edge is the new age web browser for Windows 10. The browser has advanced features and interactive platform which has gained popularity in short time. Now Microsoft Edge is available in preview version for iOS and Android. The apps are not yet available on the respective app stores. Microsoft Edge is now in public beta version. So if you want to use Microsoft Edge for iOS and Android, you just need to sign up. There is one important condition of signing up for Edge preview. You must be a Windows Insider user. The process of signing up is a bit tedious. For that you need a desktop or laptop that is actually running one of the recent builds.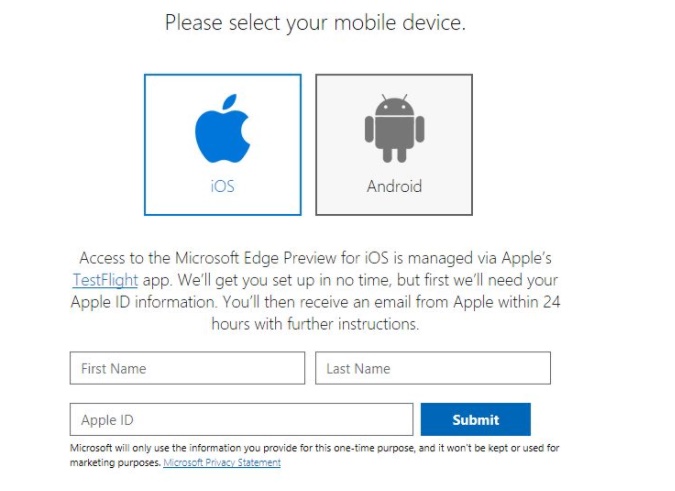 1. First of all visit the link. Remember your device must be a Windows Insider device. That is, you must be enrolled as Windows Insider.
2. Now, choose the device you want to install Microsoft Edge preview on. This will open Microsoft Edge on your desktop. As the browser opens, it will detect if the device is running an insider build.
3. If you want to download Microsoft Edge preview for iOS, you have to enter your name and your Apple ID. Usually Beta builds of apps are installed in iPhones or any iOS device via Beta builds of any app are installed on iOS via an app called TestFlight. So, install the TestFlight app on your iOS device.
4. Now sign in for Microsoft Edge. Once you have signed up, you will receive a code in your email account. You will need to enter this code in TestFlight.
5. Now for Android users, they will be redirected to Play Store. They can join the Beta version from play Store. Android users will get the emailin due course of time.The email may take some time to arrive but it will eventually arrive. If you want to download Microsoft Edge Preview for Android, you need only enter your email address.