Bing is the official web search engine of Microsoft. Bing was previously call by many names like Windows Live or MSN. With the advent of Windows 8 and 8.1 Bing has evolved to become the most powerful search engine that come along Windows and provides relevant searching results that are often searched by users. Bing implements the blend of semantic technology and Tiger indexing technology to improve its searching techniques. Yahoo and Microsoft went for a joint collaboration with Bing and since then all Yahoo searches are powered by Bing. It's needless to say Bing gathered more popularity with the built in Search of Windows 8.1 that has already been discussed in some of the articles. But in brief, I am again throwing light on the Search.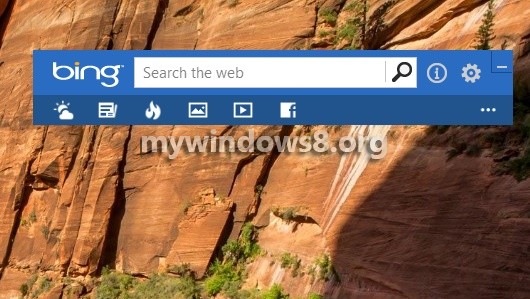 The search of Windows 8.1 is powered by Bing and whenever you search anything in the Charms bar search, Bing collects all information from the internet and displays in front of you in an organized manner with a large variety of searching criteria to enhance your experience. Whenever you search anything in your computer if you select "Everywhere" option, Bing will start working and providing you all the necessary results that you may be looking for. Moreover there are numerous Apps provided for Bing like the Bing Desktop. This App is absolutely free and available in Windows Store. Bing Desktop looks like a search bar that floats on your desktop and your desktop background changes to that of the homepage of Bing. When you type a text and enter it, the app will redirect you to the homepage of Internet Explorer.
Steps to search via Bing Desktop in Windows 8.1
1. First download the App from Windows Store and install the .exe file. If prompted by UAC click Yes to continue.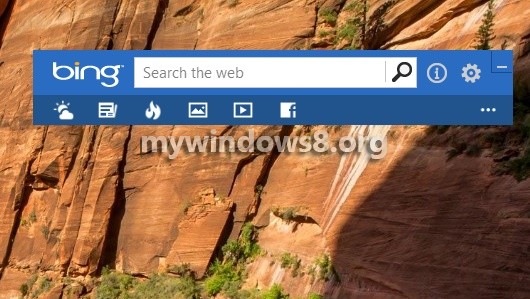 2. The Bing Desktop app will look like a tile floating on the desktop with background images changing from time to time.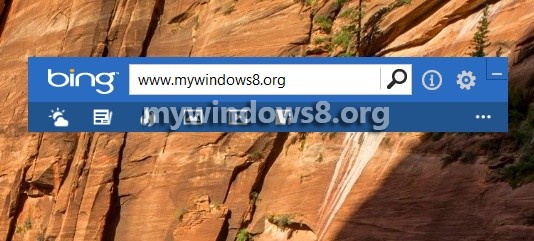 3. When you type a search criterion or a web address, it redirects to the Internet Explorer. Besides this, there are 6 tabs in the Bing Desktop Bar- Weather, News, Trending, Images, Videos and Facebook. Whenever you click an icon, a drop don list appears and you get your favorite lists of videos or the popular news of the week