Any device that connects to the internet via wireless connection has Wi-Fi feature and such devices have the ability to turn on or off the Wi-Fi connection. However, Internet of Things or IoT devices cannot turn On/Off Wi-Fi because these devices do not have dedicated interface for switching on/off Wi-Fi connections. But for whatsoever reason, we need to turn off Wi-Fi and turn it on. This switching is done by users manually, i.e we turn on Wi-Fi connection for our devices on our own and do not have any system of automatically turning on or off the Wi-Fi connection on a scheduled or preset time.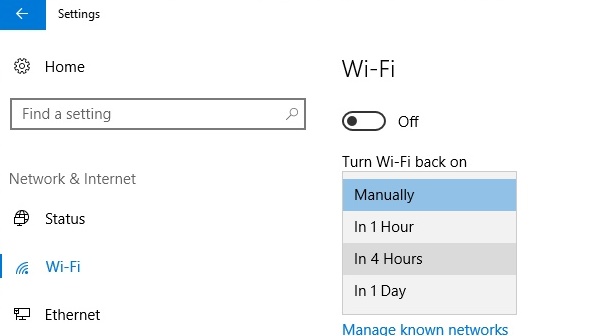 Windows 10 is probably the first platform to break this rule. Windows 10 is incorporating a new technology that turns on the Wi-Fi after a stipulated time. You need to turn it off manually though. This new feature has been included in Windows 10 Insider Build 14942 for now. So, everytime you turn off Wi-Fi connection and want your device to automatically connect to the Wi-Fi at a timestamp preset by you, the new Scheduled turning on of Wi-Fi will come to your help.
1. The first step involves turning off the Wi-Fi. You can do it any way, either from the action Center, or from Settings.
2. Next, open the Action Center by clicking the Wi-Fi button in the System Tray. Next, tap on the Wi-Fi icon to turn it Off. As the Wi-Fi is Off,a new drop-down menu will open with the Title 'Turn Wi-Fi back on'. The drop-down has four options; manually, 1 hour, 4 hours, and 1 day.
3. Choose any one option you want. That's all. You can do the same thing by following a different way. Click Settings and go to Wi-Fi. Then do the scheduled turn on.