Windows 10 launch date is not far off. It's 29th July and knocking the door. The time period from which Microsoft announced Windows 10 and the date when Windows 10 will officially release had been eventful. Now at the verge of official release, the internet got hold of some leaked images of Windows 10 Package box. During the entire period as stated earlier, Microsoft opened Windows Insiders for people to access and install Preview Builds of Windows 10. The Windows Insiders opened new dimensions of interactions and explorations for wannabe and current software developers.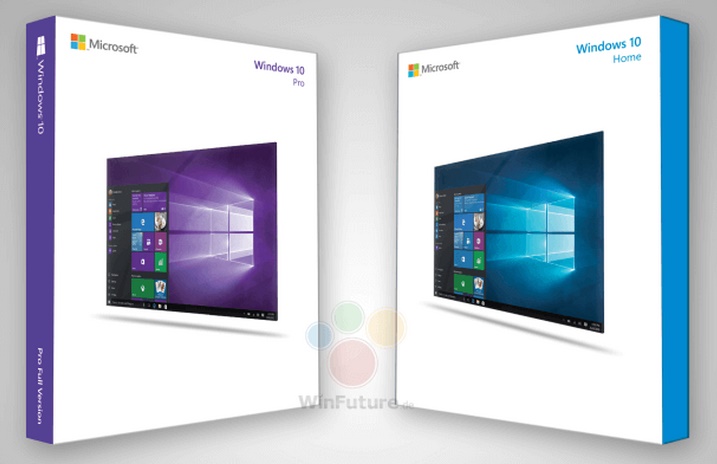 Have a look at the image above. It has been leaked on the internet by Winfuture. The image shows a simple layout with the latest design of Windows 10 logo. We have published previously articles related to the new logo designing in which Microsoft used real lasers, lights and everything. In the cover of the package, we see that image. There are two different types of logos, the blue one for Home version whereas the purple color for the Pro version.
The designs as shown in the image indicates a basic outline of the final end product. So there is a decent possibility that the design and the overall layout might change at the last moment. Windows 10 will be available to most of the users as a free upgrade to Windows 7 and Windows 8 users but the important things. So many of you might not need to buy an OS separately in a retail package box. Others, who are planning to spend bucks in purchasing the OS, can have a look at the cover image keeping aside the credibility issue for sometimes.