Every file on Windows 10 has some information stored in it. Be it an image or a song or a video. The files contain information. Now, viewing the information is very easy. All you need to do is right click on the file, go to properties and see the Detail tab. If we send these files to someone else, he/she can also retrieve the data just like us. Information stored in the files are not always trivial. Some information are exclusive and may not appropriate to be shared with others. In that case, you would like to remove the information from the file and then send the file. Is it possible? Yes, it is possible edit information from a file. Some information can be edited, while some cannot be. For example, you can edit the name of the Author of a file, but you can never remove or edit the resolution and ISO details from an image.
The following tutorial will help you remove personal information from a file on Windows 10.
Steps To Remove Personal Information From A File In Windows 10
1. First of all open File Explorer or Windows Explorer. Now go to the folder where the desired file is located.
2. Now, right-click on the file and select 'Properties' from the context menu.
3. As the Properties window opens, go to the Details tab. Here you find all personal information about that particular file. Now, since you can see this information, you must be aware that the information can be read by any other person too. The information is stored in the file and anyone who gets the file can read the information just by following the same step as you did.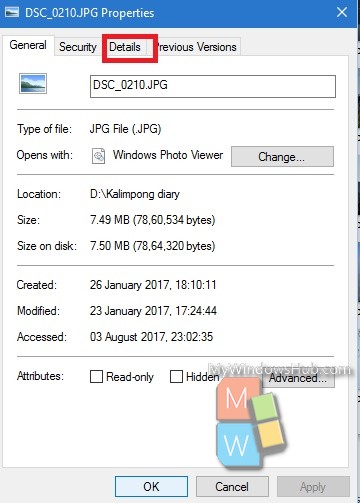 4. You will find'Remove properties and personal information' option at the very bottom of the Details tab.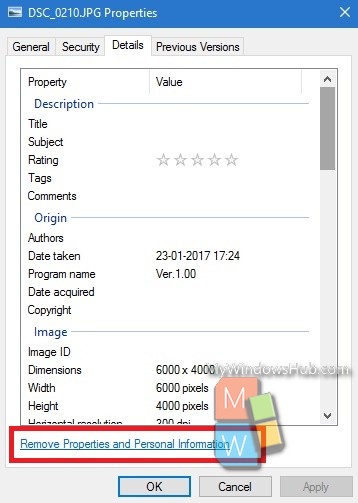 5. Check the radio button corresponding to the option "Remove the following properties from the file".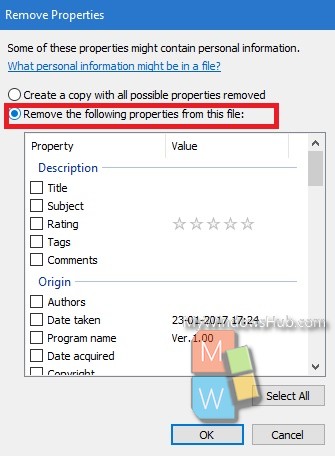 Now select the properties you want to remove.
6. Click OK
That's all!