With the advent of smartphones and tablets, the use of bulky Desktops and PCs have reduced to a great extent among people who use them for personal purposes. Recently a survey was carried out by IDC which says that a decay in the purchase of PCs will be encountered. As the Windows 10 is on the verge of arrival, it is generally expected that users will purchase new hardwares for their new operating system. But unlike previous times, this time the result has been different.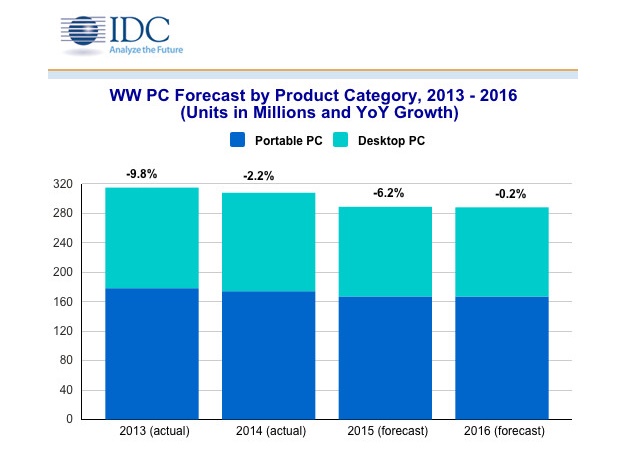 Since the new OS will be provided free to existing users, people will first prefer to test before making any serious purchase. Customers have been alert since the time of Windows 8 which received a massive criticism and since then it has been observed that users make choice carefully. So all these factors might add up to the degraded shipment of PCS.
Now coming to the statistical numbers, about -6.2% decay is expected this year compared to 2014. The numbers of 2014 is also less than that of 2013. As we have mentioned earlier that Windows 10 will be made available to Windows 7 and 8 users for free, this means that the OS can be tried on the same computers as Windows 7 and Windows 8. This substantially makes a big gap in the path towards improving the sales number. The graph does not include tablets and Surface devices.
Source: IDC