This article will help you to open Command Prompt with Administrative privilege.
Windows 8 comes with lots of new features which enable users to perform different actions in various ways.

You can open Command Prompt by typing "cmd" in Run dialog box. But it will launch normal Command Prompt window. But if you need to launch Command Prompt with Administrative privilege, then there are other methods to do that. In Windows 8 you can open Administrative Command Prompt from your Task Manager, Quick Access Menu and through Windows 8 Apps Search. Now, Task Manager is a much known term but Quick Access Menu is a new feature in Windows 8.
If you have used Windows 7, you may know Windows Key + X is used there to open Windows Mobility Center. The same key pair is used in Windows 8 to open this Quick Access Menu, which contains some quick access links like Run, Desktop, Search, Control Panel etc. You can even add your own quick links (limited) there.
Now, let's see how to open Administrative Control Panel (Control Panel with Administrative privilege) in Windows 8.
Open Administrative Command Prompt through Windows 8 Apps Search
Press Windows Key + Q to launch Apps Search. Type "Command Prompt" in Apps Search field. You will get result in Left pane. Right click on it and select Run as Administrator.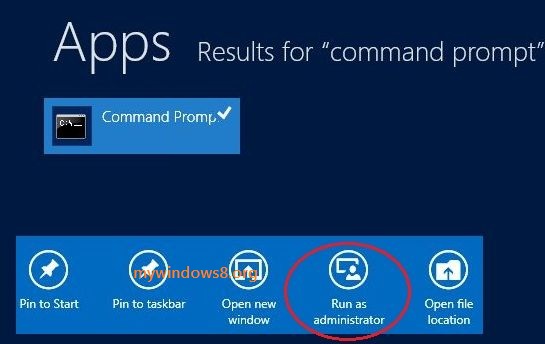 Access Administrative Command Prompt from Task Manager
1. Right-click on Windows Task bar and open the Task Manager.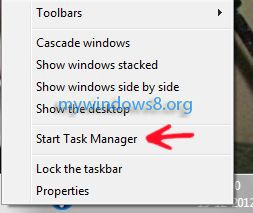 2. Go to File -> Run new task.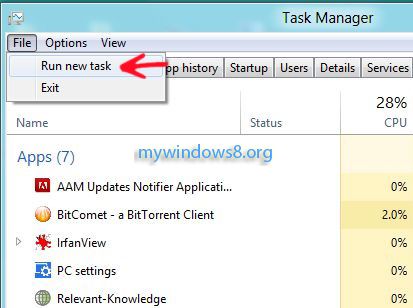 3. Type cmd and check Create this task with administrative privilege option and press OK.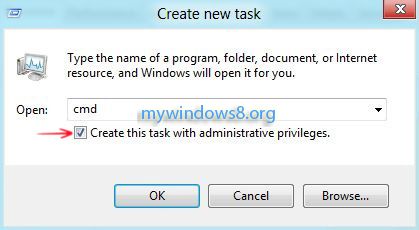 That's it. Command prompt with administrative privilege will open.
Launch Administrative Command Prompt from Quick Access Menu
It is the easiest way to launch Administrative Command Prompt. Press Windows Key + X to open Quick Access Menu and then select Command Prompt (Admin) from the first group of Quick Access Menu.
Command Prompt with administrative privilege will launch.