Microsoft makes product whose main quality lies in its user friendly approach. So with an ambition to reach more and more users, it welcomes suggestions on a particular feature and let users vote or comment if that feature should be kept or not or how to improve it.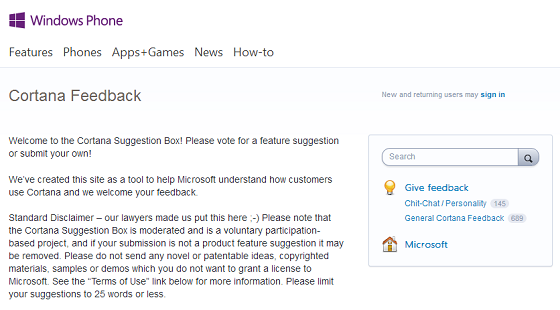 Microsoft has so many User Voice forums that provides a platform to speak out on the products that you are going to use. Some common user voice forums are:

1. Windows Phone User Voice –

windowsphone.uservoice.com

2. Visual Studio User Voice –

visualstudio.uservoice.com

3. Xbox Music User Voice –

xboxmusic.uservoice.com
4. Xbox Video User Voice –

xboxvideo.uservoice.com

5. WPDev User Voice –

wpdev.uservoice.com

6. WP Facebook User Voice –

wpfacebook.uservoice.com
Now a new addition in the list is Cortana User Voice. In this forum if you suggest some thing be it addition of a new feature or improvement of the existing ones, people will vote it and the votes will be counted for restructuring the feature.

Let's see what Microsoft says:
"Welcome to the Cortana Suggestion Box! Please vote for a feature suggestion or submit your own!
We've created this site as a tool to help Microsoft understand how customers use Cortana, and we welcome your feedback."
To go to the Cortana User Voice, go to Cortana.uservoice.com