We all know that Flickr is one of the favorite online destinations for photo lovers and the Flickr app known as Flickr Booth is updated and the features have been enhanced greatly.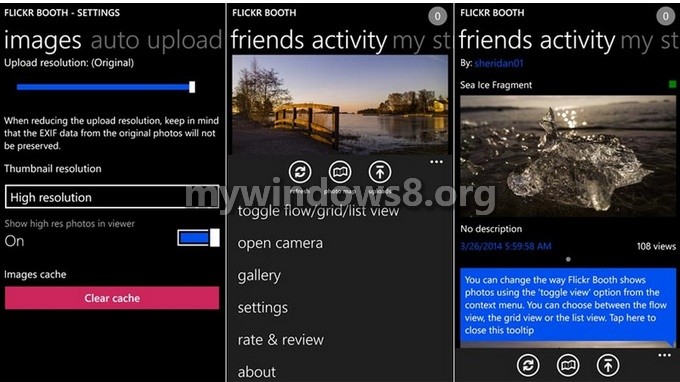 Pull down to refresh is the most desirable update but there are some more in the list.
Check out the features added in v 2.4
1. The first and important update us the addition of pull down to refresh.
2. The location tooltip is replaced with a location indicator and location label in photo viewer details.
3. While uploading photos you may ask for run under lockscreen when uploading photos from OneDrive.
4. An option is being added for my stream to show only photos that are not in any album.
5. Now you can hide the search and where to search fields to let the user see more photos when searching. Tap on the search summary brings the fields back.
6. Loading more items is now easier to user.
7. Optimized OneDrive file loading. Load the images for upload on demand instead of automatically
8. If there is location set with the photo, show the map in photo viewer details.
9. Fixed contacts loading.
10. Addition of map view for single photo.
11. Addition of tooltip to the booth tab about the ability to pin most tiles.
12. You can pin searches to the start screen.
13. Follow/unfollow users by API.