We live in an era where there is progression every day and Windows Phones are running high. Well, Window Phones are getting larger but do you ever expect an entry level handset with 7-inch screen? This is no more a dream. At the Hong Kong Electronics Fair, A Chinese OEM named Ramos has revealed the new 7-inch Windows Phone running on Windows 8.1. Though Ramos Q7 has an impressive screen but all the other specifications are not up to the mark.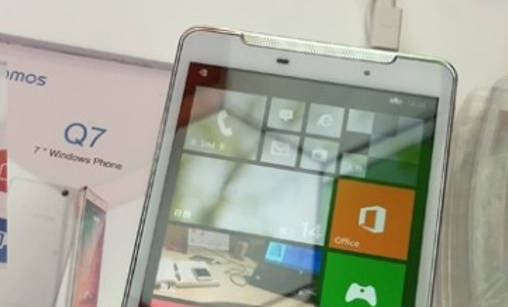 Ramos Q7 has 1GB RAM size and a Qualcomm Snapdragon 200 processor with a 1.2-1.4 GHz clock speed. It has internal memory of 16 GB and 2MP front and 5MP rear camera. The 1280×720 resolution of the LCD screen appeared quite outdated. But another good feature is the battery. Ramos Q7 has got 4000 mAh battery which assures usage for more than a day. Though there is no mention of microSD card slot but it includes features like HSDPA, Bluetooth, Wi-Fi and GPS with AGPS support.
Ramos Q7 will likely to hit the Chinese market initially. It was just a preview of the device so no information on pricing and release dates have not been veiled off yet. Well we hope Windows 8.1 will work well on Ramos Q7, let's see.