World's leading tech giant, Microsoft is at this year's Mobile World Congress – and its presence can easily felt as it has considerable force to offer to world!! Yesterday, company had unveiled two new handsets – the Lumia 640 and Lumia 640 XL – at their keynote, along with a new Universal Foldable Keyboard which are some of the highlighting products unveiled here at the world's biggest mobile industry event. Along with these demos for its new devices, Microsoft had so much to display.
AC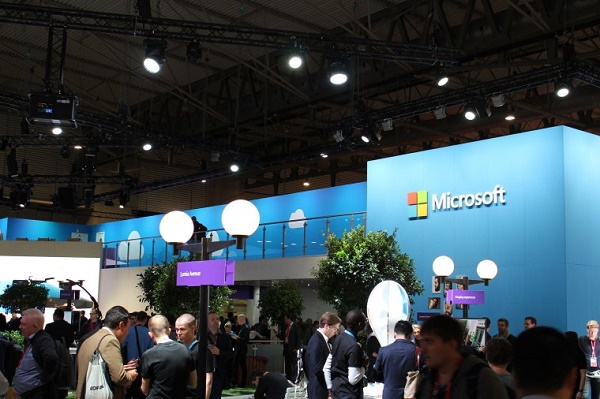 Microsoft's stand at MWC is in the same location occupied by Nokia in previous years, and its scale is immense – the image above shows just one corner of the giant stand. The stand offers visitors the opportunity to check out some of Microsoft's products – including its digital 'personal assistant', Cortana and indeed visitors are offered the opportunity to try stuff like Cortana out for themselves.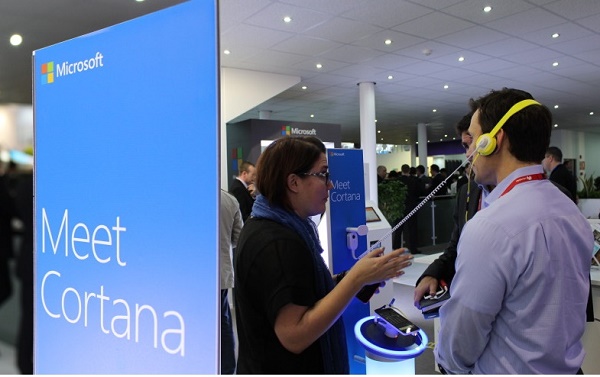 Booths and interactive displays are available for those who have never actually used some of Microsoft's products. Below one introduces Windows Phone, using the same 'emulator' that is available on the company's website. But visitors are also invited to play with the various devices on Microsoft's stand too. Here, a lady examines the Lumia 635, which has the Windows 10 Technical Preview for phones pre-installed.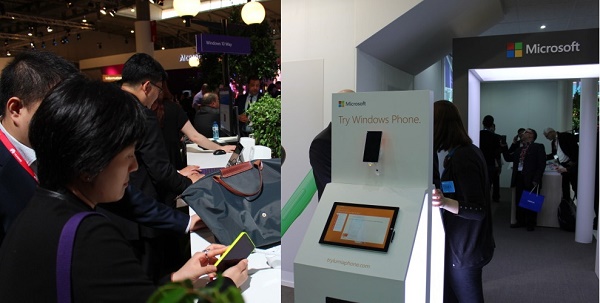 It's just not phones either – Microsoft is pushing the idea of "Windows for multiple screens" at MWC, showing continuity of the Windows experience across PC, tablet and phone with story not completing exactly there but it will get better with Windows 10.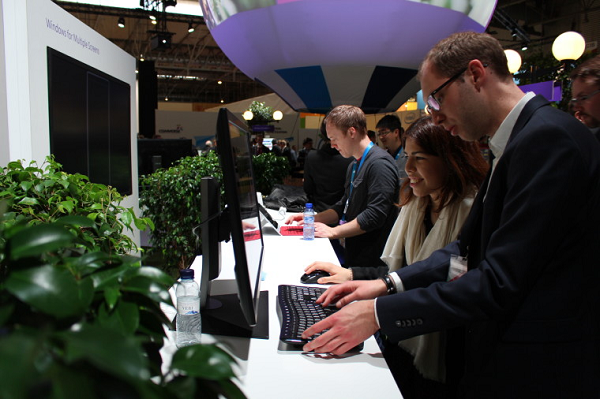 All those devices have been maintaining a decent stride to the Microsoft stand over the last couple of days – doesn't mean that it is competing for attention with LG, Sony, Samsung and many other leading brands, who are its immediate neighbors at the show.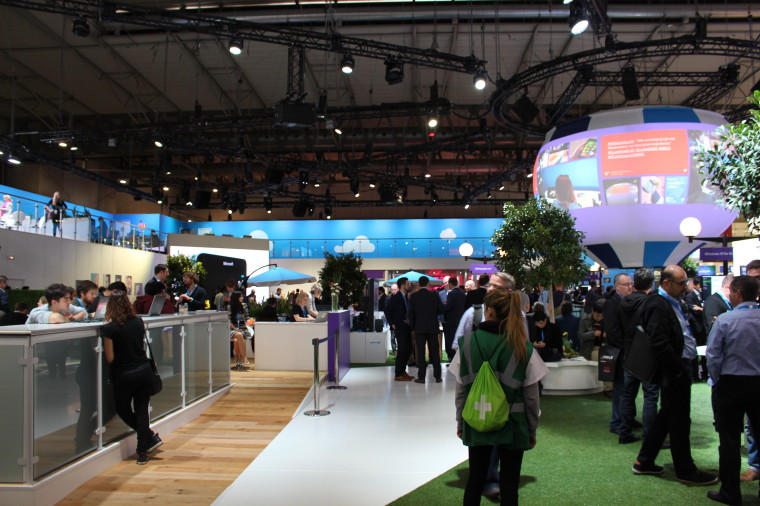 Giant hot-air balloon: That's the basket for DJ's booth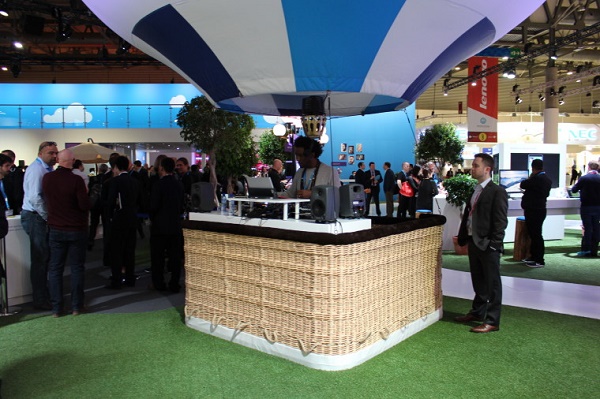 Also on display was Microsoft's "first phones" range which are its 'non-smart' feature phones (sometimes called 'dumb phones), which target buyers primarily in emerging markets, who have never owned a mobile handset before.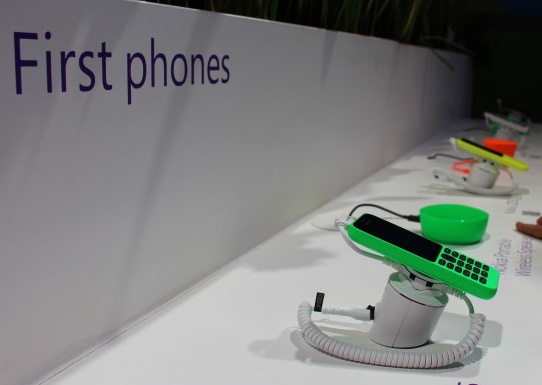 The Lumia range is what Microsoft really hopes buyers will choose – including those in business environments. While Android and iOS have made serious in-roads into the enterprise mobile space, Microsoft has succeeded in gaining significant business share in many markets, such as the UK. Understandably, it's keen to build on this as it is a rare success story for Windows Phone, after all.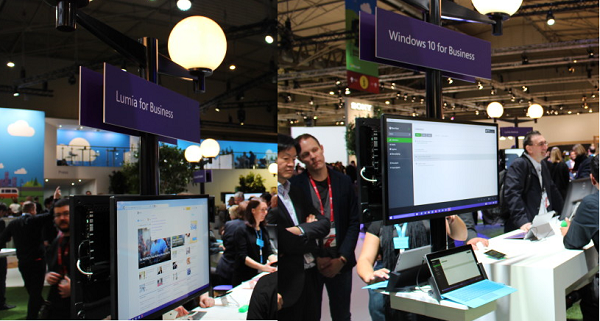 And despite Windows 10 still being months away from its official launch, Microsoft is already courting business and enterprise customers – including many key decision makers and influential people visiting MWC this week from around the mobile world – and talking up the benefits of its next-gen OS for the workplace. Windows 8 failed to make significant progress into the business market, but Microsoft is hoping that the shallower learning curve of Windows 10 – and its broad similarities to Windows 7 – will make it an easier sell to companies.
The company has also been talking up its apps platform to just about anyone who will listen. Below, users are being shown demos from a Windows Phone handset, and responses were overheard on the stand talking up the big name apps available on the platform today!! There are many 'zones' across the Microsoft stand – each attempting to reach out to a different part of the Mobile World Congress audience.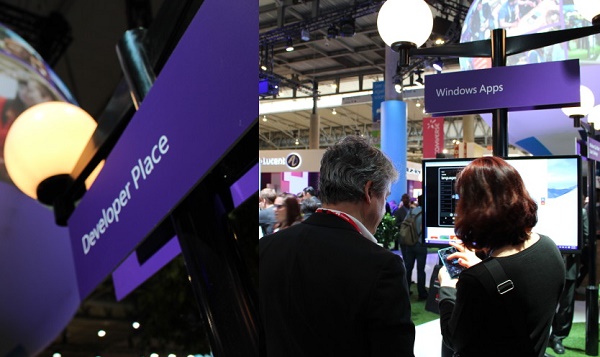 There is another side to the Microsoft stand at MWC. The company has continued a tradition started by Nokia, of offering hospitality and seating to all of the world's press attending MWC, as well as Microsoft partners.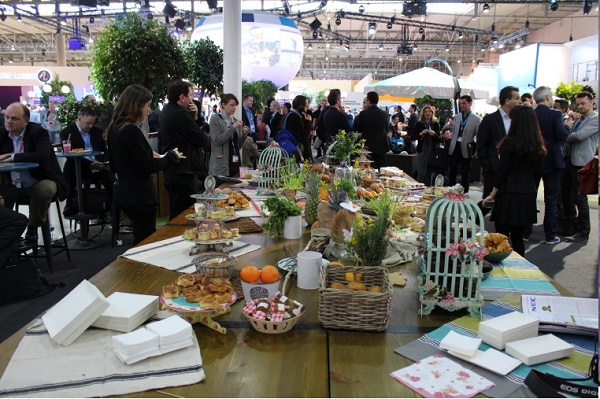 There's also a huge work and meeting space, where press can gather to casually listen in on conversations between Microsoft executives and other very important people, while we pretend to be distracted by all the yummy food.
Of course, a big shout-out must go to the staff on Microsoft's. These folks work long, long days – often dealing with stupid questions and, occasionally, a bit of self-entitled rudeness from some of the more arrogant attendees. Indeed, regardless of which company the reps working on the show floors at MWC represent, they are the true heroes of the entire expo. For all their hard work, the Microsoft team enjoys a bit of fun now and then – for example, by spontaneously bursting into a quick dance to celebrate winning a bunch of best-in-show awards at MWC for its new devices.
So, it's (mostly) hard work at the Microsoft stand, showcasing the company's latest and – it hopes – greatest products. All in all great display of products.