It has been just a week that the Windows 8.1 Preview version has been launched in the market for the users. In less a week's time Windows 8.1 Preview version has received it's first set of bugs that needs to be fixed after its debut launch. The operating system had been launched in the market on Tuesday and within a short time only the issues that were present in the operating system were reported to be fixed. All in total Microsoft has received six updates of which two have been rated of great importance and the rest four are just recommended issues that need to be fixed.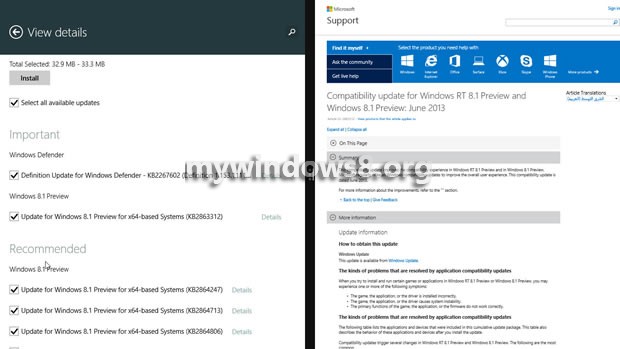 One of the important update being that there is an absence of virus definition update for the Windows Defender. Since Windows Defender being the default anti-virus in Windows 8 and 8.1 , it requires a virus definition update periodically for the protection against the various new viruses revolving about in the internet. Another important update being that improves the compatibility feature between Windows 8.1 operating system and other third-party
programs like AutoCAD , Norton Total Security Software & AVG Anti-Virus Software and several other softwares.
Now coming to the recommended updates , there are four updates in this section. These all include the first update being that it fixes an application crash occurring with Windows Store Apps just after launching them. The second update being it improves the robustness of the data files in Windows 8.1. The actual meaning of which is still unknown till now. The third update fixes another bug which prevented the various Google account users from signing in through certain applications. The last update being an issue present in Internet Explorer 11 that prevented users from resuming file downloads.
The above mentioned updates are available to the various users of Windows 8.1 RT Preview version. As always it has been a standard rule that users with automatic updates turned on need not worry about the Windows Update section, but the users who have turned off the automatic updates need to go to the PC settings options and turn on the update for better performance of their operating system.