Microsoft is greatly endorsing the next version of MS Office for Windows tablets and we are hearing terms like universal office apps and so on. But why is this new version of Office for Windows Tablets so special and what prospects are coming with this new version? Microsoft has launched a special video on the new improved Office for Windows tablets and Ben Walters, Senior Product manager has given an idea of the improved new Office. In this context, let me tell you that Microsoft has recently launched the Windows 10 Technical preview. Many readers are still not aware of this new update, so for them, Windows 10 Technical Preview is the latest preview build of Windows 10. The main motive of Microsoft is to diminish the demarcation between human life and technology and hence Windows 10 aims to be touch friendly, universal and much more interactive. Hence Office, being an integral part of our Windows PCs deserves modification. This Office has garnered massive upgrade and Microsoft has launched an elaborate video called Office Mechanics which digs deep into the world of Office.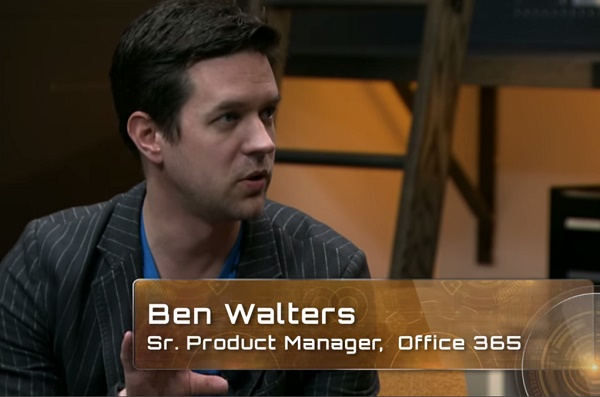 Enhanced Touch Sensitivity incorporated in Office for Windows Tablets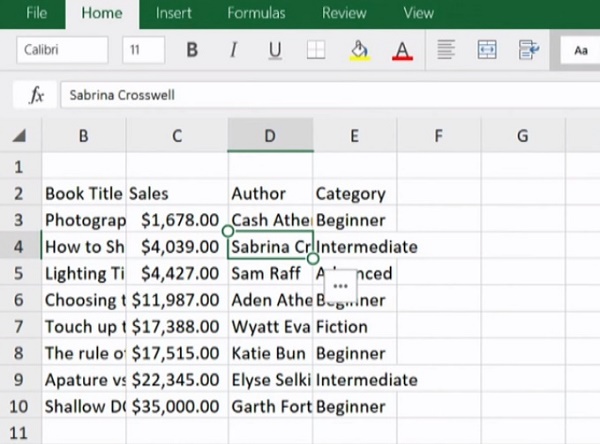 The first feature that should be mentioned is that Office will come with Windows 10, deeply integrated in the OS so as to boost the touch sensitive platforms like Windows Phones and Tablets. This means users won't require any keyboard, mouse to handle Office. Fingers will be enough. The demonstration shows that advanced application data can be well accessed and modified using Excel, PowerPoint and Word. Excel sheets in office for Windows tablets have become more and more fluid and flexible and you can perform various functions like expanding table column widths, adding new columns and rows, select, enable filter, copy paste just with tap of fingers. So it's definitely going to be a great accomplishment in future.
Get Insights of words inside a document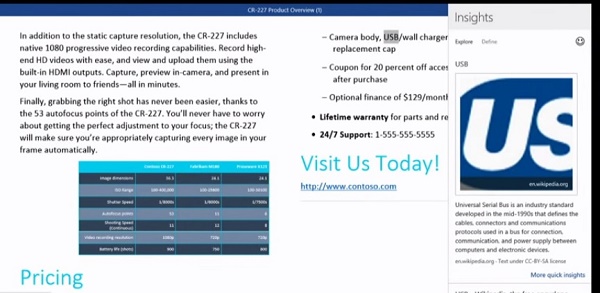 This is another interesting feature you will find in Office besides supporting easy readability of doc files. Users can read documents in readable modes which will be touch friendly. If you select a particular word or a phrase in a sentence, a new option will pop up along with the conventional options like copy, paste, cut and that new option is the Insights. Insights will provide you with additional information about the word selected, essentially from the internet. The insight will be displayed in ta small panel in the right hand side. In case you don't know a word, you can just view the insight and you will no longer require to minimize the document and search for the word in a web browser. The consolidated view will be immensely helpful for readers.
Easy help mode for new users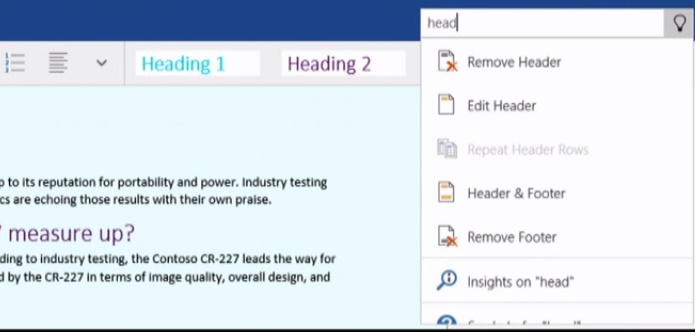 Now that the new version of Office will be greatly ameliorated in terms of user interface and features, it's normal to face difficulty initially in handling the software. So there is this 'Tell Me More' option for you. When you are lost and unable to find a specific option for e.g header footer, clipart etc, you can open the Tell Me More option and type your query. As a user type the subject like header, Word will display all associated functions like Edit Header, Remove Header and many more. So you can find you query from the drop down list itself. You can lock keyboard and scroll throughout the documents without any hazard.
Advanced and Responsive use of Stylus for PowerPoint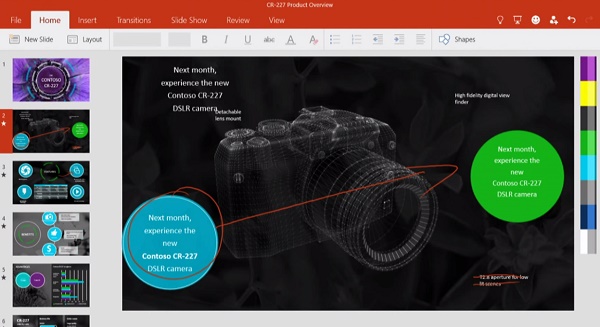 PowerPoint will make good use of stylus which are often used along with tablets. While making and presenting power-point presentations, you can add annotations like arrows, underline and draw in your presentation to make it more responsive and interactive. You can later on discard the changes or keep it if it's of use.
This is an overview of the new Office, The next version has been designed keeping in mind about the Windows tablets but users of other platforms can equally enjoy the beauty of this new office on the go. The way Office is waiving the dependency on external input devices like keyboard and mouse and welcoming touch sensitive software. Enormous flexibility has been achieved for Outlook, Calender, One Note as well.
Office Blog said that the new version will be hopefully known as Office 2016. It said, "Simultaneously, we are hard at work on the next release of the Office desktop suite that will be called Office 2016. (Unexpected, I know!) We will have more to share on Office 2016 in the coming months, but this suite will remain the comprehensive Office experience you're long familiar with, best suited for a PC with keyboard and mouse. We have compelling new experiences coming as part of this Office suite–stay tuned to the Office Blog for more details. We expect to make Office 2016 generally available in the second half of 2015."
Office 2016 is hopefully going to be a cornucopia of beautiful experiences.