Microsoft Edge is one of the most sought after projects of Microsoft. Edge browser is an efficient and fast web browser that has immense abilities. The user interface is extremely well designed and the best part of the Microsoft Edge browser is that it can save your energy consumed. Microsoft is here with the Edge browser battery efficiency experiment for the Fall Creators Update on Windows 10. Even though Edge has not yet managed to get the same number of viewers like that of Chrome or Firefox, but still the browser has outdone the two browsers in terms of energy efficiency. A test was done to compare their energy efficiencies. In the test, a looping HTML5 video was streamed on identical devices running the exact same configuration settings. Edge came out on top being able to stream video 19% longer than Chrome and 63% longer than Firefox.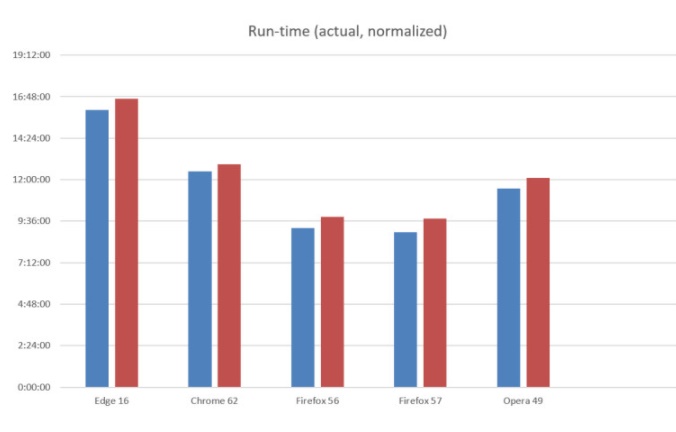 Microsoft has also claimed that Edge offers a much faster and safer browsing experience than Chrome in a follow-up video. It is backed by Apple's Jetstream 1.1 benchmarks and an NSS phishing site report, Edge has managed to come out 48% faster and 18% more secure than Chrome. Check the image above to see the comparative chart showing the energy efficiencies of Chrome, Opera, Firefox, Edge.
These are really impressive results, but whether it will entice users to use Microsoft Edge is another question.
Microsoft Edge is a feature rich web browser that Microsoft is trying to make popular among users. Despite the interactive tools and interactive user interface, Microsoft Edge browser has some loopholes. This is the reason why it can't still compete with Chrome or Firefox.