Microsoft showcased a glimpse of this stylish Windows 10 tablet at the IFA, Berlin back in September. Finally the Redmond based company launched a very stylish Windows 10 tablet from Toshiba, the dynaPad. The dynaPad is a very sleek designed tablet teamed up with a real looking pen which is known as the TruPen. The thickness of the device body is around 6.6 mm and weughs 569 gm. The tablet is lighter than both Apple iPad Pro and Microsoft Surface Pro 4. When the keyboard is connected, the thickness goes up to 14.9mm, and the weight rises close to just under 1kg. The slim tablet along with a realistic pressure sensitive TruPen, gives the device a feel of a paper and pen for advanced note making.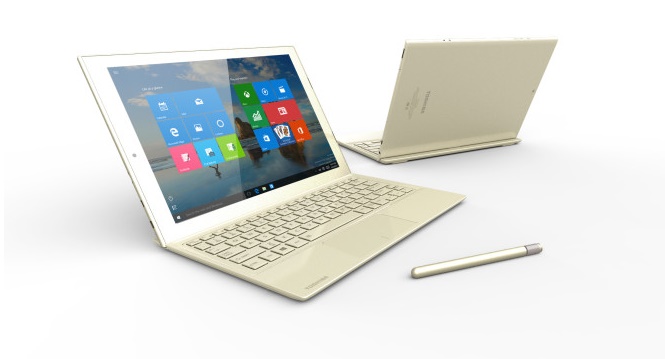 The dynaPad sports a 1.44 GHz Intel Atom Processor with 4GB of RAM which is not upto the mark for a high end tablet but there are other factors which fill up the gap. The new dynaPad has a 12-inch IPS LCD with WUXGA+ (1920x1280px) resolution, with dual-layer anti-reflection and an anti-fingerprint coating. The anti fingerprint coating is extremely useful because wuile writing we have to rest our hand on the paper or tablet which causes undesired clicks and taps. So the anti fingerprint coating will save you from this menace.
Now talking about the TruPen, the TruPen of Toshiba dynaPad is a Wacom Active Electrostatics pen with 2048 levels of pressure sensitivity. The display is equipped with 'metal mesh sensor technology'.
Toshiba dynaPad will go for sale in the United States and Europe from the first Quarter of 2016. Pre-orders have already opened in Japan. The price of Toshiba dynaPad will be under 130,000 JPY (roughly $1080 USD).