Nokia Denim is finally rolling out next month in many Lumia devices but in selected regions only. The launch is happening as early as next month and the first two devices which are prognosticated are Lumia 830 and Lumia 930 and a chance of Lumia 1520. But information available about Lumia Denim arriving for these models and the regions are still not official and hence you can savour them as tasty tech-gossips. But another news which is confirmed is the arrival of Lumia Camera 5.0. This app will replace Nokia camera with full grace and will enrich the Lumia devices with copious number of features.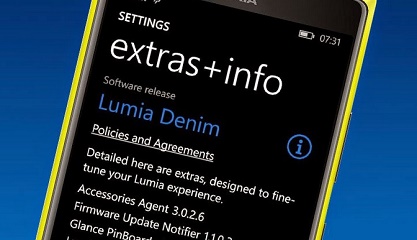 Lumia Denim was scheduled to arrive in the fourth quarter of fiscal year 2014. So it is easy to tell from prescience that the correct time of arrival should be next month. Now let me tell you about the upcoming features of Lumia camera vs 5.0 in a compendium.
1. Speed– Image taking will become super fast with a few milliseconds time gap between two shots.
2. It will also bring Moment Capture. Moment Capture facilitates 4K-quality video recording at 24 FPS with a long press of the camera button . You can take high quality images with resolution of 8.3 megapixels.
3. Dynamic flash, 4K video, Auto HDR.
4. Hey Cortana Voice Activation– Owing to SensorCore technology, activating Cortana with just saying "Hey Cortana" from an idle status of the phone will be easier than ever.
5. Glance Green– This feature aims to take care of your health with the augmented contribution of Bing Weather, or Bing Health & Fitness data.
This is all about Lumia Denim. We will update you with more upcoming scoops.