Today at IFA Berlin, Microsoft has officially revealed budget friendly dual-sim Lumia 730 and single-sim Lumia 735 (with 4G/LTE) phones, which will be available for 200 Euro, later this month. Lumia 730 has a good 5MP front facing camera, which makes it a perfect mid range 'selfie' phone. This phone will come with Lumia Denim update. These devices will be availble in three colours Black, green and Orange. Lumia 730 will be available for €199 and the 4G/LTE Lumia 735 at €219 excluding taxes and subsidies .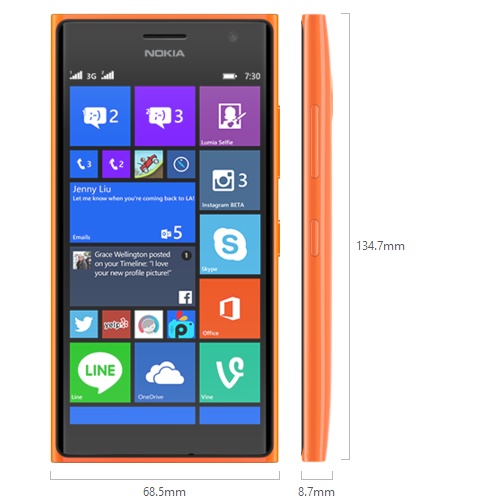 Lumia 730 and Lumia 735 Specifications:
Dimensions: height: 134.7 mm, width: 68.5 mm, thickness 2: 8.7 mm
Weight: 130.4 g
Resolution: 720p (1280 x 720) with pixel density at 316 ppi.
Camera 6.7MP Rear, Front camera Full HD 5MPx wide angle.
CPU: Quad-core 1.2GHz Snapdragon 400.
RAM: 1GB
Bluetooth: Bluetooth 4.0.
Wi-Fi: WLAN IEEE 802.11 b/g/n.
NFC: Yes
Battery: 2220 mAh
735 4G/LTE connectivity (Lumia 735 only), 730 3G enabled.
Storage: 8GB internal storage, MicroSD slot up to 128GB, 15GB free cloud storage(One Drive).
OS: Windows Phone 8.1 with 'Lumia Denim' update.
Bundle Features: Skype 3 month unlimited worldwide calls.
Source: Nokia