Election is India and all its previous procedures happens like festival. Just on the verge of formation of Central Government body, plenty of memes, apps and games are launched owing to the popularity of the political leaders and their strategies. General Elections 2014 will have a billion people voting for the next Government of the country. Since many days we are hearing and sharing memes on party slogans and even a political party made a collection of memes generated on their slogan for launch online to boost up their reach to the common mass. A new game is now on the Windows Phone Store that attempts to create an aura of the election in the world's largest democracy.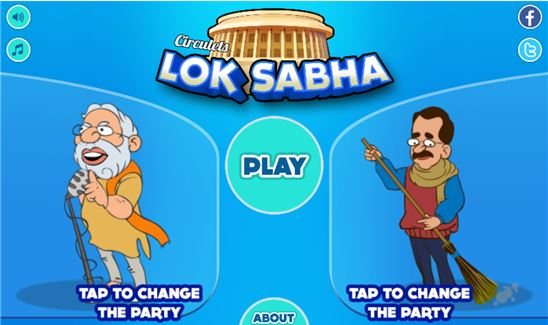 Lok Sabha is a funny game where two people play with their political ideologies. Each player selects a political party and competes for seats in the Parliament that is known as Lok Sabha. Players win Parliament seats by collecting politicians from their party, and lose a seat if they collect other party's politician. The player collecting maximum seats win the game.
Lok Sabha is a political satire game to play and is fun playing for time pass. The design is fresh and clean and the caricatures of the politicians add to the fun. The game is available in Windows Store for download. Enjoy playing the game for a while.