A new Windows Phone named LG lancet is rumored to be loitering in the market and heading towards Verizon. The news has been published at Windows Central new channel. They have released this image below which looks like the spec sheet of the upcoming Windows Phone.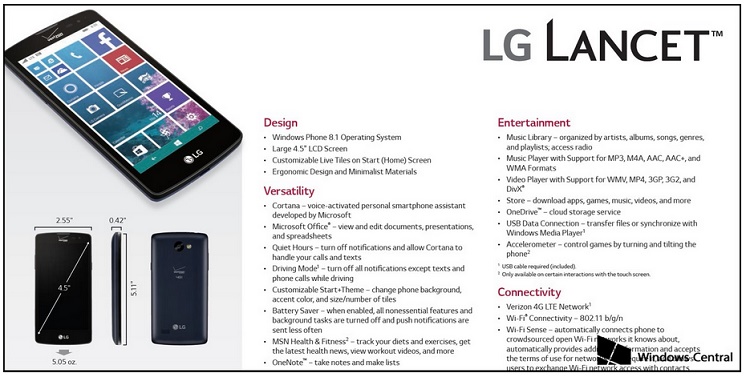 The specification sheet refers of an ergonomic design with smooth round shapes. Check out the other specifications at a glance:
1.Phone dimensions are as follows: 129.8 x 64.8 x 10.7mm; 143g
2. LG Lancet will sport a decent 4.5-inch display with FWVGA (854x480px) resolution.
3. It will run Quad-core Qualcomm Snapdragon 410 processor (MSM8916) with processing speed of 1.2 GHz.
4. Storage is nothing spectacular but a moderate 8GB onboard storage out of which only 4GB is usable usable. The phone supports microSD card expansion although the limit has not yet been furnished.
5. LG Lancet will have 8 MP shooter with 1080p video recording and a front facing VGA camera.
6. Connectivity feature covers up the basic connectivity specs and will support 4G LTE (CDMA), Wi-Fi 802.11 b/g/n
LG Lancet will come with a 2100mAh battery.
7. LG Lancet will come from factory with the latest version of Windows, Windows Phone 8.1 Update 2.
According to sources, LG is trying to give the LG Lancet phone a touch up of their own Android line by including features like Knock On and Soft light/ Gesture shot. The Knock On feature of LG Lancet will wake the screen or put it back to sleep with two taps whereas the Soft Light and Gesture Shot will assist users on taking amazing selfies with illuminated screen or a simple hand motion (open/close fist).