This tip walks you through the process of installing Windows 8 without a DVD. You may have problem in your computer's optical disk drive. If so, installing Windows 8 using DVD is not an option for you. Again, if you have downloaded Windows 8 .iso file from Internet, you may prefer to install it using your USB flash drive instead of burning it to a DVD, because it will save much time.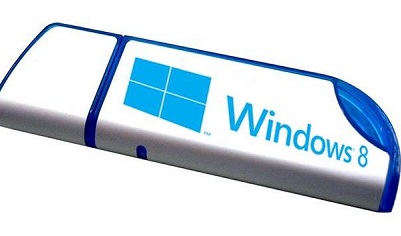 You will only need to have the .iso file to install Windows 8 using USB flash drive. You may have already seen different tutorials on how to create bootable USB drive to install ant operating system using USB flash drive. But the process that I am going to show you to install Windows 8 using USB flash drive is the easiest among all. You do not have to perform any advanced tweaks. Using the same method you can also install Windows 7 with USB flash drive.
Steps to install Windows 8 using USB flash drive
There is a tool by Microsoft that will do the entire job for you. You can download the utility tool from Microsoft Store. This tool is actually built to install Windows 7 but works great for Windows 8 too.
After you download this tool install it and follow the steps to continue.
1. First of all connect your USB flash drive. It is recommended to use USB flash drive of at least 4 GB. All existing files in the USB drive will be deleted.
2. To launch the tool double-click on Windows 7 USB DVD Download Tool icon and click Yes when prompted by UAC.
3. Click Browse and select the .iso file and then press Next.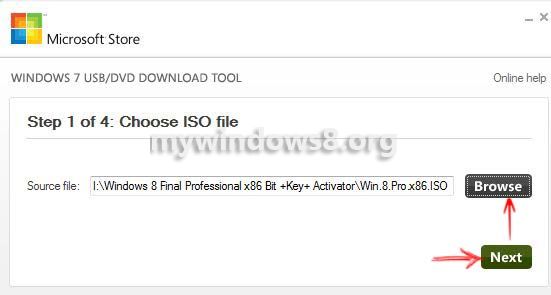 4. Next select USB device option.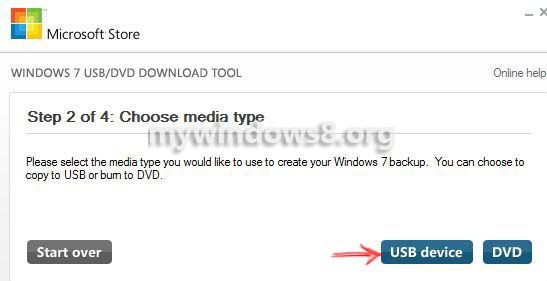 5. Make sure that your connected USB flash drive is selected. Click Being Copying.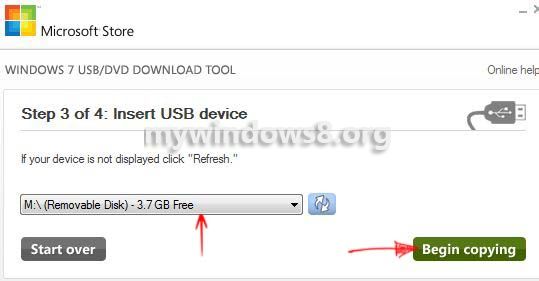 6. If there is any file in your USB drive. You will get following message. (see screenshot)

Select Erase USB Device
7. You will see the process has been started. It will first format your USB flas drive and after that it will copy all the files in your USB drive. Close the windows after it reaches to 100%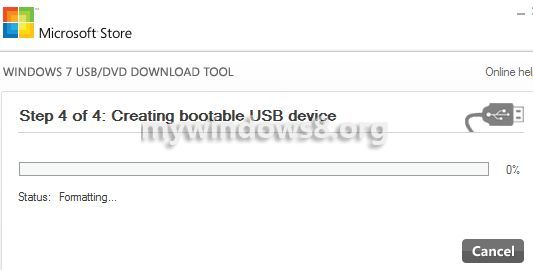 Your USBflash drive is ready now. Connect the USB drive with your PC in which you want to install Windows 8. Start your computer and press F10 (can be different) to choose booting device, then select USB Flash Driveto begin the installation of windows 8.