Yesterday Microsoft released MS13-088: Cumulative security update for Internet Explorer 11. Internet Explorer 11 got its first major update and jumped from version 11.0 to 11.0.1. MS13-088: Cumulative security update comes with 17 non-security related bug fixes and it also includes a security patch for Adobe Flash Player.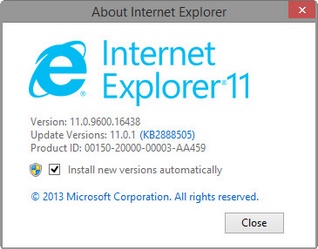 A major bug, observed in IE 11.0 was " Internet Explorer loses HTTP connections when you close a webpage before you receive an XHR response". This bug has been fixed in Internet Explorer 11.0.1.
With this update Enhanced Protected Mode is turned disable by default in Internet Explorer 11.
This update is not only for Windows 8.1, it is for Windows 7 version, Windows 8.1 Preview version and as well as Windows Server variants where IE11 can be installed.
You may find details and download details Here