One of the most useful enhancement of Windows 10 is its strong integration with OneDrive. OneDrive will let you upload you files to the cloud service and you will be able to access your files anytime from anywhere. OneDrive Fetch files is another new addition that will enable a user to access all files of his PC from another computer via he official website of OneDrive. The feature will prompt ou to add network locations in the PC libraries or drives. This feature not only lets you access remotely located files but also helps you stream videos and music and play picture slideshows.
Steps to Turn On or Off OneDrive Fetch Files on your PC in Windows 10
1. Open the Notification Area of the Taskbar by tapping on the arrow and find OneDrive Icon.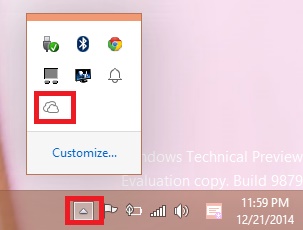 2. Now right click on the OneDrive icon and go to Settings.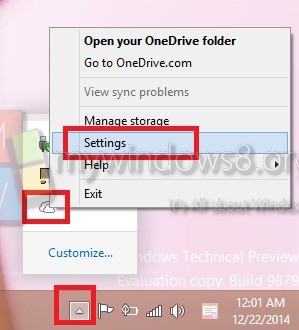 3. Under Settings tab, you'll find an option "Let me use OneDrive to Fetch any of my files on this PC". If you want to turn on OneDrive Fetch Files, check the option and click Ok to save changes. if you want to turn off, just do the reverse.