Microsoft already announced that Windows 7 and Windows 8 and 8.1 users will get Windows 10 as a free upgrade. Now, just before the rolling out of Windows 10 Microsoft started pushing users to reserve their Windows 10 in order to cope up with the increasing demand fro Windows 10. Windows 7, 8 and 8.1 users have received a small icon added in their taskbar which prompted them to get Windows 10. The following tutorial will help you how to reserve Windows 10 for your own Windows OS.
Check out the pre-requisites first!
Processor: 1GHz or faster processor or SoC
RAM: 1GB for 32-bit, 2GB for 64-bit
Hard disk space: 16GB for 32-bit OS, 20GB for 64-bit OS
Graphics card: DirectX 9 or later with WDDM 1.0 driver
Display: 1024×600 resolution
Steps to reserve Windows 10 for your Windows 7 and Windows 8.1
1. First of all check if there is any Windows 10 icon at the Taskbar or not. If there is an icon as shown in the figure, move the cursor over it. It will pop Get Windows 10. Click on it to Reserve Windows 10 for your Windows OS.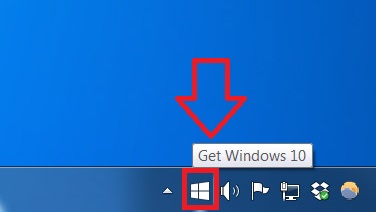 2. So now that you have clicked here, you can reserve for Windows 10. Microsoft generally prompted Windows 7 and Windows 8.1 users to reserv for Windows 10 upgrade but even if you have not received any suggestions like this, you can install new updates via Windows Update.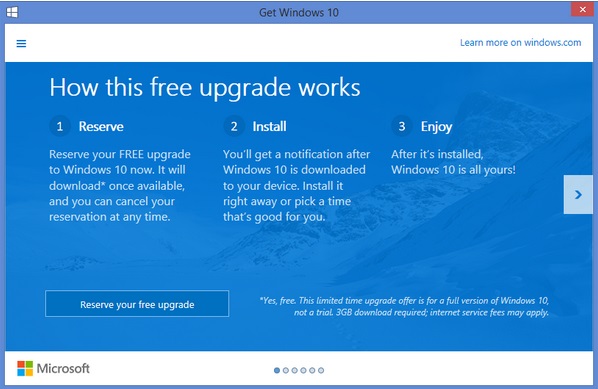 3. Check out the steps below:
Reserve your FREE upgrade to Windows 10 now.

It will download* once available, and you can cancel your reservation at any time.

You'll get a notification after Windows 10 is downloaded to your device. Install it right away or pick a time that's good for you.

After it's installed, Windows 10 is all yours!
Now follow the instructions as mentioned by Microsoft and reserve your Windows 10!