Fisheye Effect And Its Significance
Video Editing on GoPro devices has numerous aspects to explore to. As GoPro videos are high end, high resolution and amazing, they do deserve an equally efficient video editor. GoPro cameras support videography in ultra wide angles that give the video shots a Fisheye effect. The ultra wide angle visuals create a strong and evident panoramic view in high definition. Mostly, sports video shots are captured with Fisheye lens or Fisheye view. This is because during sports, the moving sportsman or the moving subject is the center of attraction and to capture him/her flawlessly without interruption, you will need a Fisheye perspective. Fisheye mode captures video in a different perspective than normal rectilinear perspective. The angles are wide and equisolid and the resultant videos have a bulging convex non-rectilinear appearance. Fisheye lenses are used mainly for capturing sports video, travelogue videos, videos capturing the movements of meteors and heavenly objects (although these phenomena require space level cameras). So, Fisheye effects have huge importance and GoPro users are lucky to have one in their niche.
Why You Might Need A Fisheye Distortion Removal Software
As mentioned earlier, Fisheye visions have huge utilities. But if you are shooting normal videos like family gatherings, Fisheye effects are not appreciated. Again, if you shooting videos on GoPro using drones, then you will never want the horizon to look bent. So, for any such conditions where you do not want a curvature in the video footage, you would want to turn off the Fisheye effect. You can always do that, but for videos which have been already captured with Fisheye mode, you definitely need a Fisheye Distortion Removal Software. For GoPro Hero 5,6,7. VideoProc is a perfect Fisheye Removal Software for Windows and macOS. With VideoProc, you can adjust various parameters, in order to mitigate the Fisheye distortion as much as possible.
Important Features of VideoProc
1. VideoProc is an incredibly impressive video editor software that can process 4K and Ultra HD Videos from a plethora of devices such as GoPro, DJI, iPhone, Android, camcorder, etc. VideoProc is a product of Digiarty Software and is a potential alternative to Quik video editor which is the official video editor for GoPro devices. Besides performing normal editing features like cropping, merging multiple footages, video audio editing, creating GIFs, adding subtitles, recording screen, it can stabilize any 4K videos, eliminate background noise, remove Fisheye distortion and ameliorate the video quality to give a flawless footage.
2. The VideoProc software is aided by the powerful Level 3 Hardware acceleration that can make the best out of Intel/NVIDIA/AMD GPU usage on GoPro HEVC.
3. The software also facilitates H.264 encoding, decoding and processing, performing at a speed 5 times more than any of its competitors keeping intact the integrity and quality of videos. It also enables you to adjust audio visual parameters such as bitrate, framerate, resolution, aspect ratio, etc.
4. You can download online media files from 1000+ websites and social media networks.
In the following article, we shall focus on the process of removing Fisheye Distortion from GoPro video footages.
Steps To Remove Fisheye Distortion From GoPro Footage
1. First of all, download and get VideoProc free trial code to activate the full features.
2. When the .exe file is downloaded, run the file to start installation. After installation is complete, launch the application. Follow the basic instructions that you need in order to launch the app.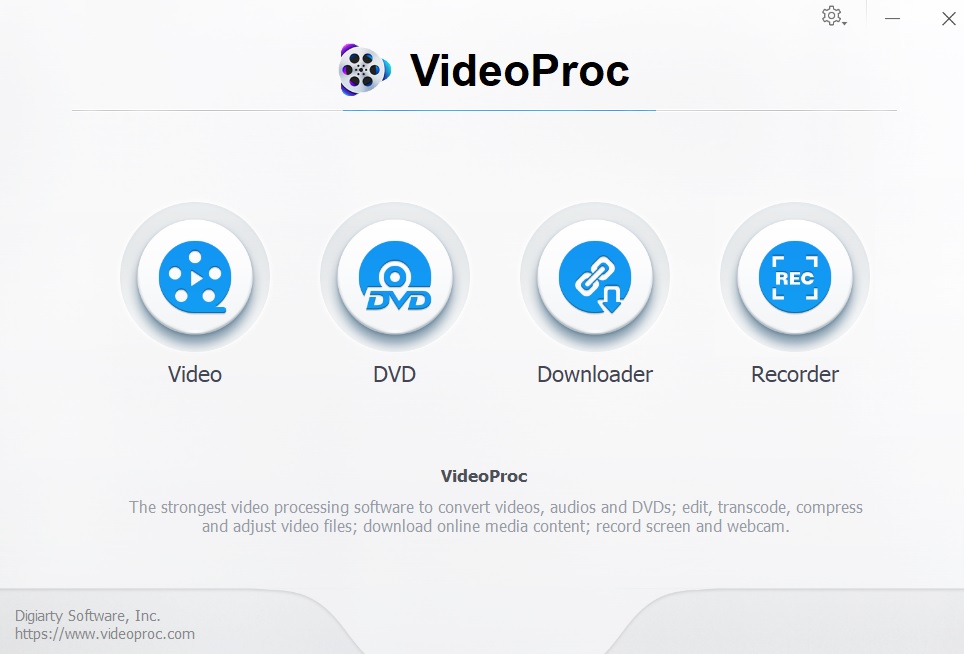 3. On the user interface, you will find 4 main options: Video, DVD, Downloader and Recorder. If you want to remove Fisheye effect from any of your GoPro video footages, then first add the video clip. Click on Add Video option.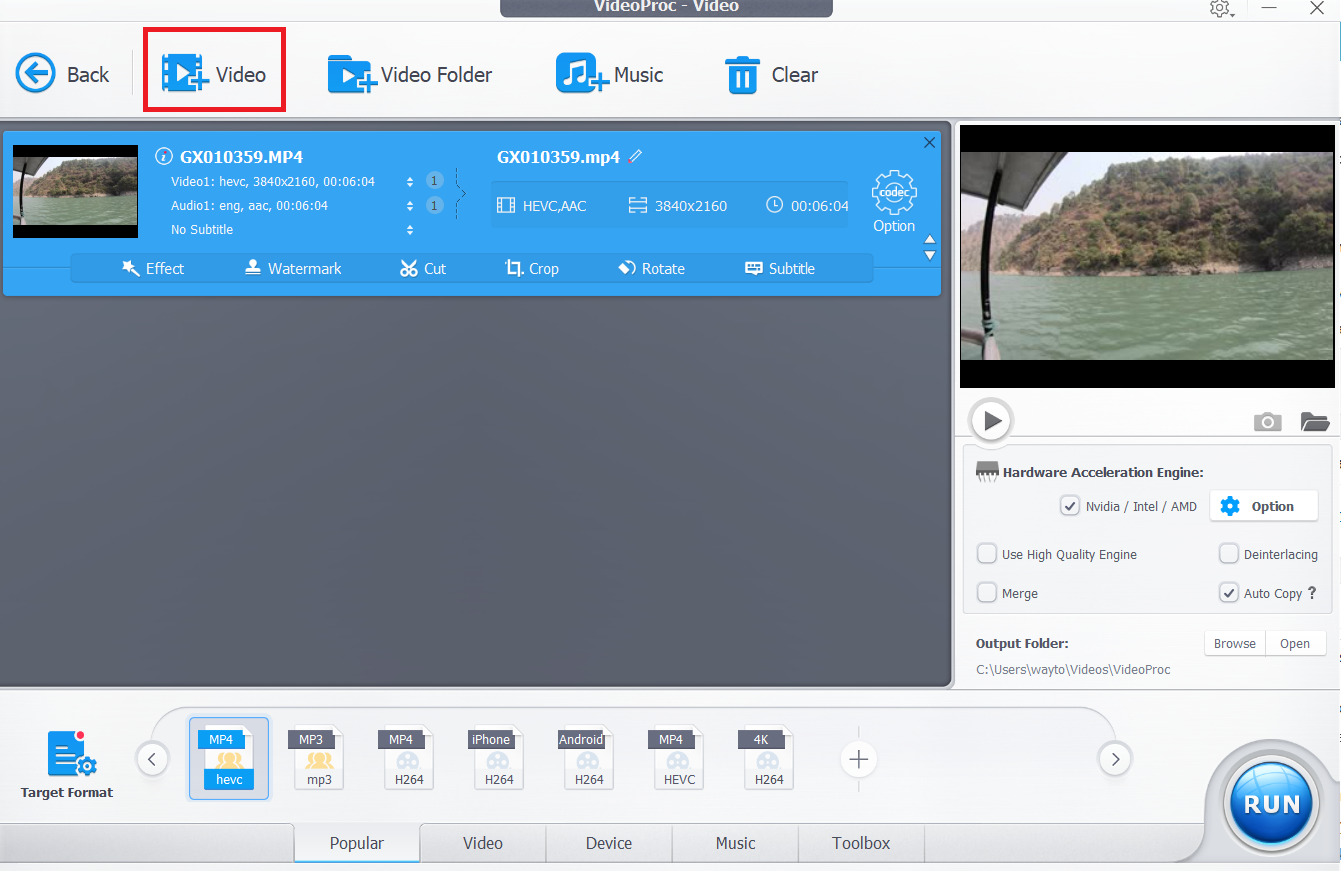 4. Now in the bottom panel, click on Toolbox. Just above the panel, all the features pop up. Scroll to the right and find out the Fisheye option. Just as you click on it, a small settings gear icon will pop up. Click on it.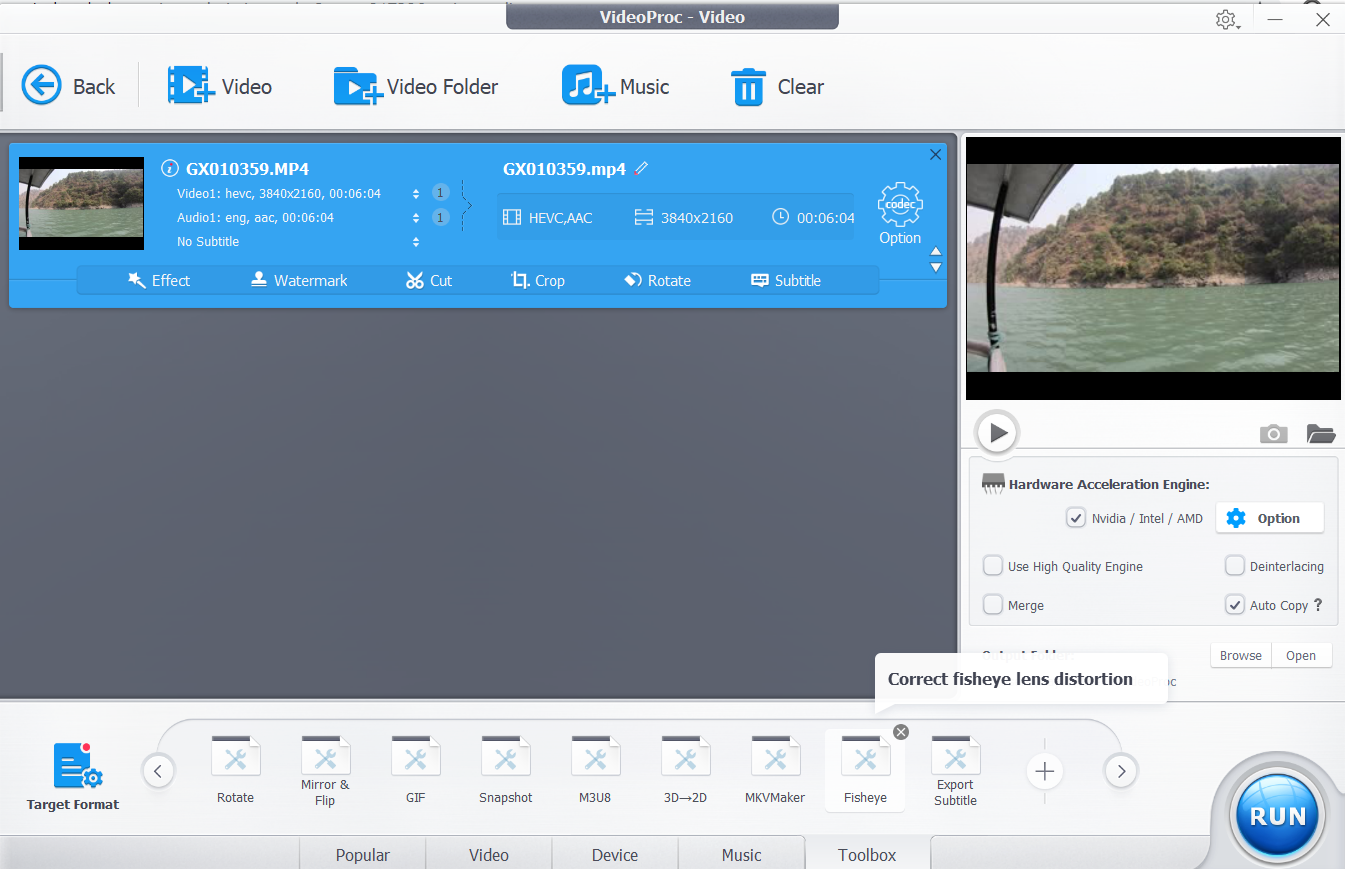 5. You can see the video captured has Fisheye effect on it.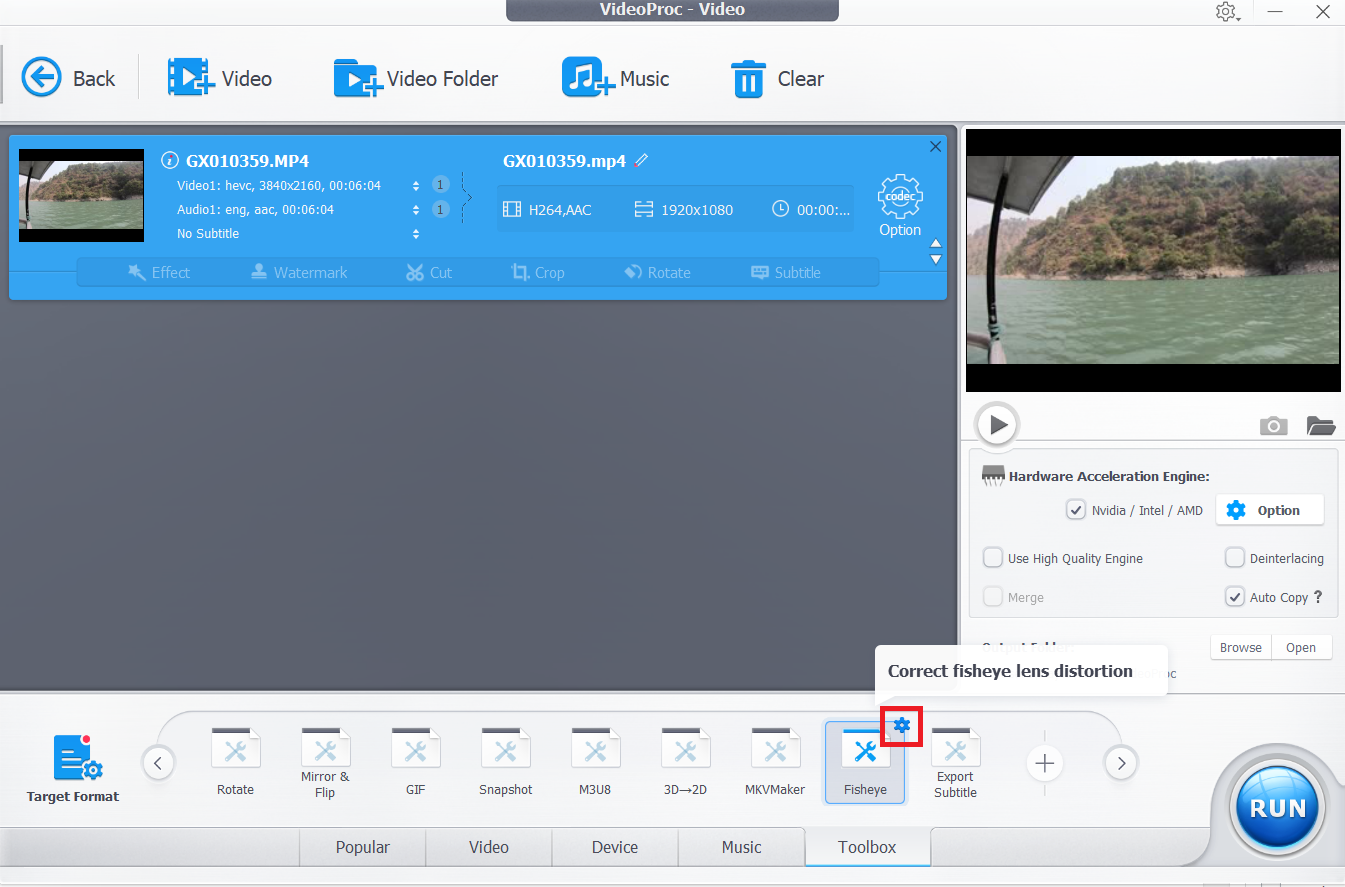 6. In the right panel, there are four parameters which you have to tweak. The parameters are Relative x-coordinate of the focal point of the image, Relative y-coordinate of the focal point of the image, coefficient of the quadratic correction term and coefficient of the double quadratic correction term.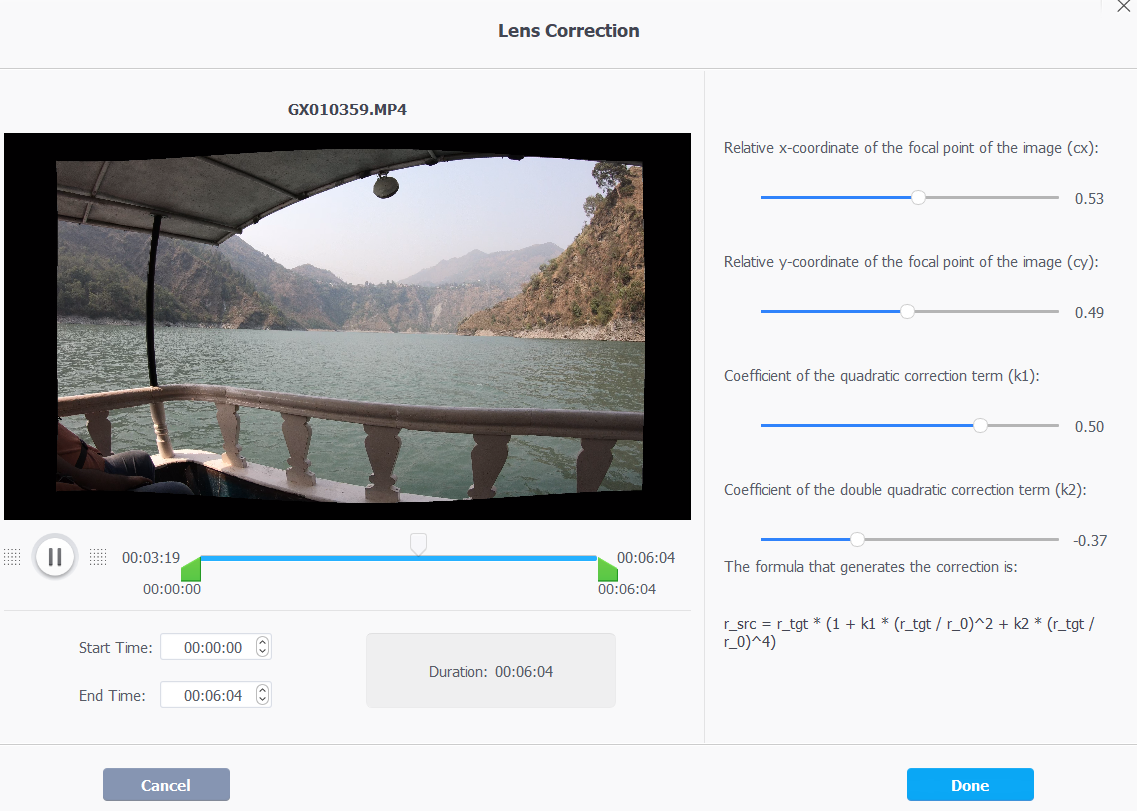 Click on OK. Save the video.
To be honest, the correction can serve your purpose and your last resort, but the correction cannot make the after effect picture perfect. There will be flaws if you do not adjust the parameters with ample care. So, an expertise is expected from user end too.
More, the developer also prepared GoPro Hero 7 contest in the VideoProc release page. Join now, get more chances to win GoPro Karma Grip, GoPro Dual Battery Charger and Battery.