Windows Firewall is an inbuilt application in Windows operating system. Developed by Microsoft, it acts as a shield and protects the computer from several security vulnerabilities like virus attacks, worms, malware and potentially harmful programs. When Windows Firewall is active, it blocks transfer of data across the firewall. Windows Firewall insures the security of your Windows computers by preventing all unsolicited attempts to connect to your device. You can import, export or restore Firewall Policy default settings with Windows Firewall with Advanced Security. Restoring, importing or exporting becomes necessary, if you have mistakenly changed any setting of Windows Firewall and cannot get back to the default policy. In this article, we shall show you how to restore, import, export Firewall Policy into default on Windows 10.
Steps To Import, Export, Repair, Restore Default Firewall Policy in Windows 10
Open the Cortana search bar, type Windows Firewall and select
Windows Firewall with Advanced Security from the search result.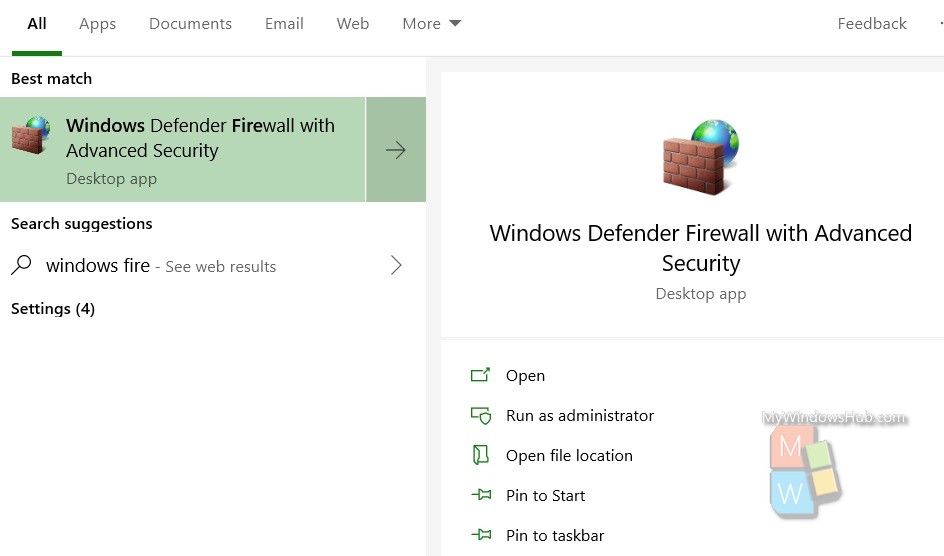 Click on the Action menu and select Restore Default Policy.

You will get a warning from Windows Firewall. It says restoring the default policy will reset all changes to settings of WIndows Defender Firewall that you made since Windows OS was installed. This may cause some programs to stop working. Click on Yes to continue. The default policy of Windows Firewall will be restored.

If you want to backup or Export the Firewall policy, click on the Action menu and select Export Policy. Save the file as .wfw property sheet.
Similarly, if you want to import Firewall policy, then go to Action and click on Import Policy option, and navigate to the folder where you have saved the .wfw file.
That's all!