Windows 10 Build 14901 has introduced a feature which is testing out new notifications within File Explorer. It aims to find out new ways of educating you on features in Windows 10. These features are designed to help you by providing quick, easy information about things you can do or new features you can try to have a better experience with Windows 10.
Steps to Hide or Show Sync Provider Notifications within File Explorer in Windows 10
1. Open Cortana and type File Explorer Options. From the search results, select File Explorer Options. You can open File Explorer Options from Control Panel.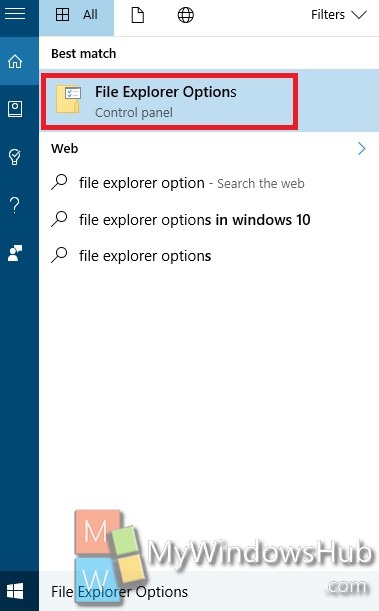 2. Now go to View tab. Scroll down and find out the option "Synch Provider Notifications". If you want to show sync provider notifications, then check the options. Else, uncheck it. Click OK to confirm and then close.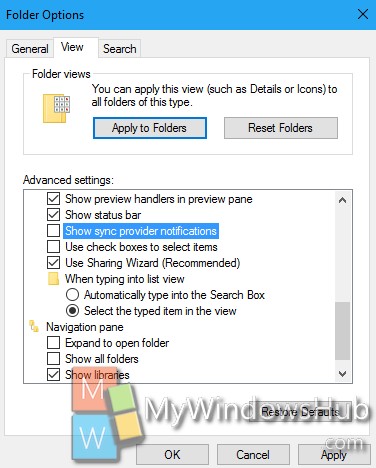 That's all!
There is an alternate method by which you can achieve this. That's by changing the Registry Editor.
1. Press Win+R to open Run Window.Now type regedit and hit Enter to open Registry Editor.
2. Navigate to the following location HKEY_CURRENT_USER\Software\Microsoft\Windows\CurrentVersion\Explorer\Advanced.
3. In the right panel, you will find a DWORD called ShowSyncProviderNotifications. If it's not present, right click in an emoty space in the right pane, go to New-> DWORD. Name it ShowSyncProviderNotifications.
4. If you want to show Sync provider notifications, set the value to 1. If you want to hide sync notifications, set the value to 0.