Almost every laptop, high range to low range comes with webcam. The webcam has a dedicated camera app in every laptop and hence webcam is a very common application. Now, webcam can be a big security threat. If trapped by hackers and virus, webcams can be manipulated to secretly record things that may be deleterious to your interest. So, a potential solution is to disable the webcam when it is not in use. This is possible with the help of a third party application, called Webcam On-Off. Webcam On-Off is a free Windows utility that lets you disable your webcam in just one click. the app is highly effective in refraining hackers from misusing your laptop webcam. If a virus program want to access your webcam secretly without your conscience, then this utility app will not allow the virus to detect or access the webcam. Check out the following tutorial: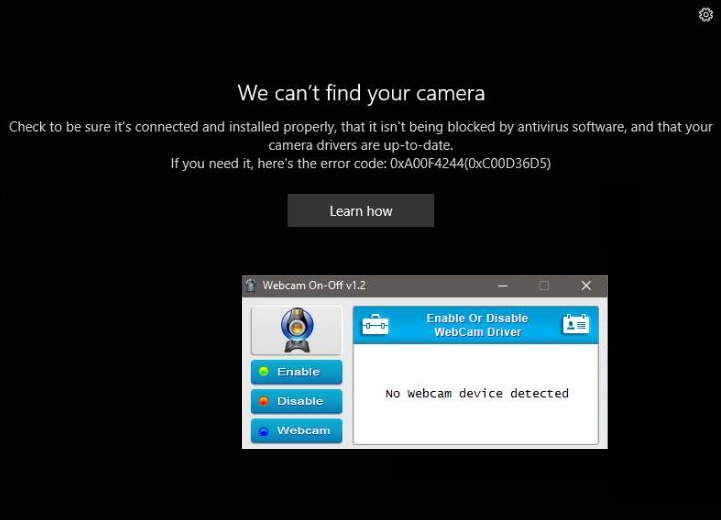 Steps to Disable Webcam (when not in use) in your Windows PC
1. To use Webcam On-Off portable utility, you have to have administrative rights. You won't require to install the application.
2. Download the app and run the .exe file. Next, run Webcam On-Off and allow it to detect your webcam. It takes the app just a few seconds to detect the webcam.
3. Once the webcam has been detected, click the 'Disable' button. The cam will be turned off. You can no longer find the webcam. Now to check it, launch any app that needs your webcam, like video conferencing apps. It will notify you that webcam could not be detected. So, the apps that need access to webcams will not run.
4. Now again if you want to turn on webcam access, then open Webcam On-Off. Run it. A message will appear saying 'No webcam device detected'. Ignore it and simply click on 'Enable' button. Your webcam will be enabled again.
That's all you need to do.
Download Webcam On-Off here