The following tutorial will help you to check if Secure boot is enabled, disabled or unsupported in Windows 10. Now for Windows 10 technical Preview, the Secure Boot setting is Unsupported. But since, this is just a preview build, you can expect change in its coming builds. However, Windows 8 received a lot of complaints because it set constraints in the ability to install other operating systems in the computer. This setting was attributed with another setting known as UEFI Secure Boot. Secure Boot protects the machine from malware that can hamper the normal boot process which means only systems with proper cryptography, digital signature enabled, can be loaded. Yes, you are definitely right in thinking that Secure Boot is indeed a desirable feature for our Windows PC. Off course it is, but not when you have alternate operating systems installed in your machine. Users who have dual boot feature, will also face issues with Secure Boot. If you want to boot your own operating system, this UEFI Secure Boot feature will stop you from doing so. Because of the resentment, Microsoft diluted the situation by mandating that all x86 systems will have the ability to disable Secure Boot. The company opened a deal with VeriSign to create a method of signing third-party binaries in exchange for a $99 fee.
Microsoft talked about this issue at the WinHEC conference in China. The company said that they are trying hard to keep Secure Boot as optional. This means, if a user wants, he should be able to make his own choices. In the WinHEC conference, there were a set of system requirements given in the presentation for Windows 10 which showed Secure Boot to be an option but it has opted out to supply information if OEMS would be able to provide support for adding custom certificate. However, a lot of speculation is going around what Microsoft's decision will be. There is a lot of ambiguity in the situation with Windows 10. It is anticipated that ARM systems will mandatorily turn on Secure Boot (Windows 10 for Phones) whereas desktop manufacturers will provide flexibility to users. But it's not clear how things will turn up for companies like Dell, HP who mainly manufacturers laptops. If these companies will give priority to security over freedom, is a matter of question.
Right now, the Preview builds have purposefully set it as Unsupported since most of the users have installed the Preview Builds as alternate OS in their computers. But still if you want, you can check the Status of Secure Boot in your computer.
Steps to Check if Secure Boot is Enabled or Disabled or Unsupported in Windows 10
1. Press Windows+R to open Run Window. Type msinfo32 and press Enter.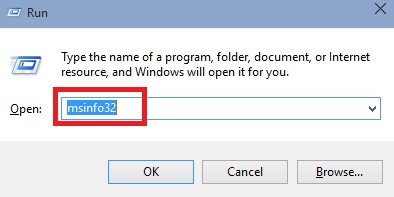 2. Next, you have to find out System Summary and in the right pane select Secure Boot State and check its state.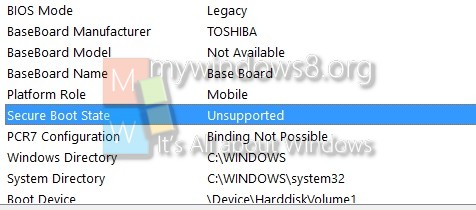 3. The System Information will open. In the right panel, find out Secure Boot State and check its status. Here it's showing Unsupported. This means the Secure Boot setting is Unsupported.