When you browse the File Explorer, you may find the folder view, layout and other settings to different from one another. Some Folder View of files may be large, some extra large or some in Tiles form. This option gives you the flexibility to set the Folder Options as per your requirement. But if you want to set the same settings for every folder, then you can set the default option via the Folder Options. It lets you apply the changes to all the folders which has the same Template Type. By same template type, we mean file that is optimized for a typical type of files. For example, the Pictures folder is optimized for image folders. So if you apply the change to the files of Pictures folder, then the change will be applied to all image files.
Steps to Apply a Folder's View to All Folders of Same Template Type in Windows 10
1. Open Windows Explorer of File Explorer. Now change the Folder layout, view, icon size just as you prefer.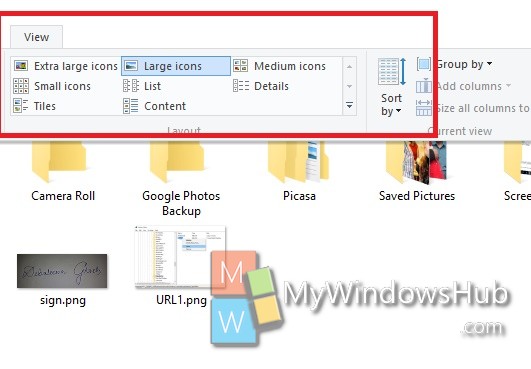 2. Next, tap on the View tab and go to Options.

3. Go to View tab, and click on Apply to Folders.
4. It will ask for your confirmation. Click Yes to allow application on all folders.