Every file on Windows 10 has some information stored in it. Be it an image or a song or a video. The files contain information. Now, viewing the information is very easy. All you need to do is right click on the file, go to properties and see the Detail tab. If we send these files to someone else, he/she can also retrieve the data just like us. Information stored in the files are not always trivial. Now talking about image files, these files also store different information. Some can be removed while some cannot be removed. The camera settings during the capture of the shot are also stored as information in the file. These information cannot be removed or changed. If you are a photographer or a person who loves to capture shots, then you might be aware of the hazard of maintaining information about the photo. In Windows operating system, you can edit the information about an image file and add additional information like who took the photo, which location was the picture taken at, author, description, etc.
Once you save additional information about the photo, you can check it whenever you need to see info about the image file.
The following tutorial will help you add titles, additional description to an image file in Windows 10.
Steps To Add Title, Additional Description About and Image File on Windows 10
1. First of all open File Explorer or Windows Explorer. Now go to the folder where the desired file is located.
2. Now, right-click on the file and select Properties from the context menu.
3. As the Properties window opens, go to the Details tab. Here you find all personal information about that particular file. The information is stored in the file and anyone who gets the file can read the information just by following the same step as you did.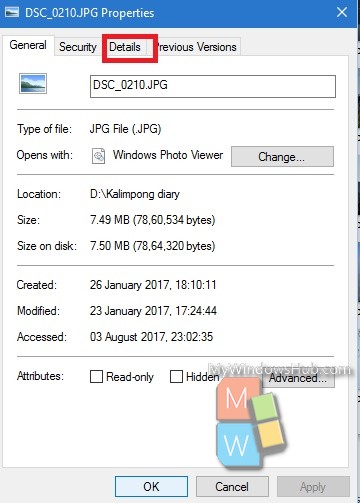 4. Now under the Description and Origin categories, you can see customizable fields. When you move your cursor on the options the field will provide text box. You can add descriptions, rate the image for priority, etc.
That's all!