Windows Store is first introduced in the Consumer preview version of Windows 8. Microsoft's Windows President, Steven Sinofsky announced Windows Store On September 13, 2011. It is just like the "Play Store" of Android or "App Store" of I-phone. An app store for Windows 8 apps was really needed as besides computers Windows 8 is built to target smart phones and tablets also. A digital distribution marketplace for Windows apps will surely encourage developers to develop applications for Windows 8. Previously there were only free apps but now you can find there bot the free and paid apps. Again users can also browse different applications there and can install them with more trust.

So, there is no doubt that Windows Store is a great feature. But if you are using Windows 8 in corporate environment, then as an administrator you may want to disable this Windows Store feature. Even in home to restrict unauthorized download of paid apps, you may prefer to disable Windows Store temporarily. In that case this article will help you to do so. I am going to do this by editing Local Group Policy.
Steps to disable windows store
1. Press Windows key + R and type gpedit.msc in Run, hit Enter.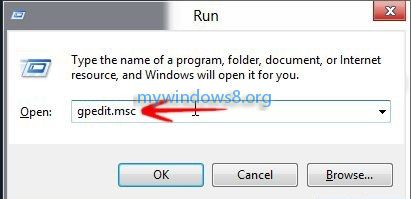 2. Now, navigate to this location :
User Configuration\Administrative Templates\Windows Components\Store
by expanding the correnponding triangle buttons.
3. Do right-click on Turn off the store application entry and select Edit .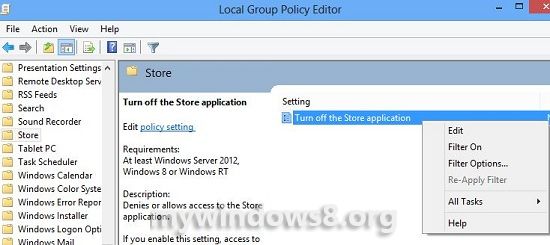 4. Now, you can see settings for Turn off the store application is by default set to Not Configured. Set the radio button to Enabled to disable Windows Store. Do not get confused, this setting is for Turn off the store application entry. So you need to select "Enabled" option not "Disabled".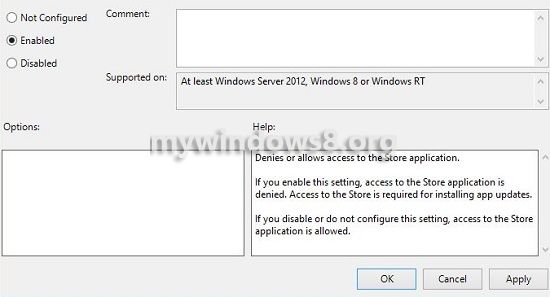 5. You need to Restart your system, so that the change takes effect. Or you can Run this command :
gpupdate /force
It will force Local Group Editor to update with hanged settings.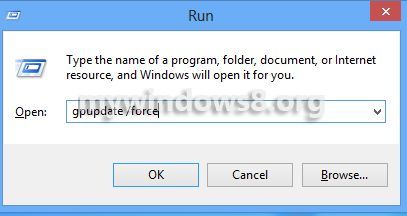 Now, if you try to launch Windows Store app, it will show, it is not available.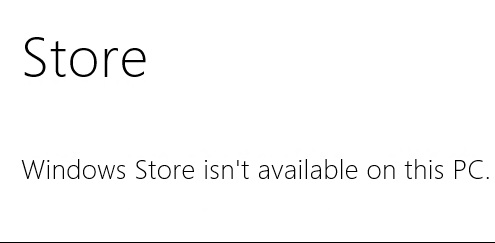 If you want to re-enable Windows Store follow the same steps and set the button to Disabled.